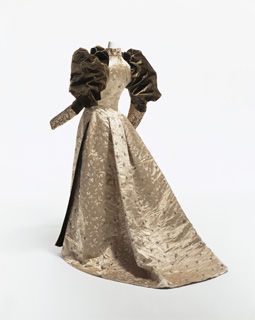 Designer:

Charles-Frederick Worth

Brand:

Worth

Label:

C. Worth

Material:

Off-white silk satin with woven chrysanthemum pattern; large velvet "gigot sleeves"; lace decoration on cuffs and collar.
Large sleeves and a scattered chrysanthemum pattern throughout the textile make this an impressive dress. As the 1880s drew to a close, the bustle reduced in size. The lines of skirts were transitioning toward forming a clearer shape. In contrast to this, around 1890 the sleeves began swelling to such sizes that one may say it was the return of "gigot" sleeves. These large sleeves were called "elephant sleeves," and they reached their maximum size around 1895.
The chrysanthemum motif used in this ensemble substantiates the Japonism style of that period. In the middle of the 19th century, chrysanthemums brought from Japan to Europe were popular in the background of Japonism movement, and European countries created "Chrysanthemum Associations." In 1887, Pierre Loti (1850–1923) published his "Madame Chrysanthème", and the image of the chrysanthemum as a symbol of Japan was established.
Inventory Number(s): AC9206 95-7