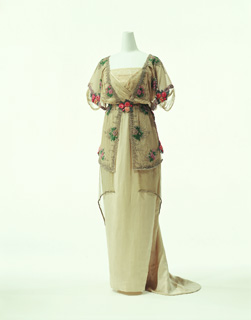 Designer:

Paul Poiret

Brand:

Paul Poiret

Label:

PAUL POIRET

Material:

Beige silk satin dress with silk tulle overdress; embroidery of polychrome beads and gold thread; gold tulle peplum.
This oriental dress clearly represented Paul Poiret's distinctive eclecticism, has loose-fitting, not unnaturally tight.
In 1906, when the S-curve silhouette was still overwhelmingly popular, Poiret introduced high waist corsetless dresses. He shifted the fashion trend substantially from 19th-century dresses in artistic forms with excessive decoration toward innovative clothing that accentuated the natural beauty of the human body. Although corsets did not disappear immediately, they were completely eliminated after World War I, following the new trend led by Poiret.
Inventory Number(s): AC2388 79-20