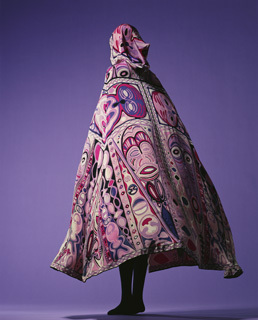 Designer:

Emilio Pucci

Brand:

Emilio Pucci

Label:

EMILIO PUCCI FLORENCE-ITALY

Material:

Pink silk georgette hooded cape; printed with mask motif.
This vivid silk-screen print shows motifs of African masks. The textile of this cape is a typical example of Pucci prints. This cape was worn over a swimsuit or jumpsuit at resort resorts.
Emilio Pucci, a Florentine aristocrat, began his fashion career in 1947. He started his business at his family home parazzo, and opened his boutique in Capri in 1950. With brilliant prints making use of the advanced Italian techniques, he swept the world, starting from the U.S. market. His dresses or "Parazzo pajamas" made of light and thin silk georgette, silk tricot, "crêpe de Chine" were favored by jet setters all over the world.
Inventory Number(s): AC6821 90-26-1