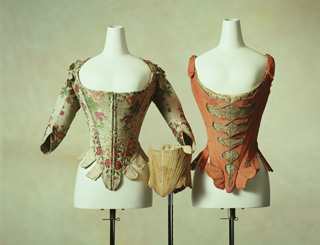 Corset
[Left]
c. 1760-France?
Material:

Pale blue silk brocade with floral pattern; lacing at front and back; ribbon-tied sleeves; boned throughout.
Child's Corset
[Center]
Mid-18th century-America
Material:

Beige plain-weave linen with leather trim; boned throughout.
Corset
[Right]
Early 18th century-France
Material:

Orange silk faille with silver braid; back and side lacings; pocket at inside center front; boned throughout.
Of kind of corsets worn underneath clothing for the body, there are simple ones for undergarments, and ornamented ones worn inside the home for relaxation. The latter type of corset also occasionally had sleeves attached.
In France, the guild of tailors had been established since the medieval period, and their role was strictly regulated, and clothes-making was work of the man. Although women were given the ability to participate in clothes-making in 1675 (Diderot and D'Alembert, "Encyclopédie", 1770-78) and female dressmakers ("couturière") appeared, only male tailors were accepted as makers of men's clothing and women's court clothing, and corsets. Since a man's strong strength were needed in order to stitch whalebones, especially corsets were limited to male tailors.
Inventory Number(s): AC224 77-11-64AD [Left]AC6379 89-17-51 [Center]AC9 77-5-2AC [Right],