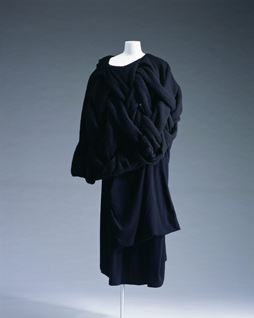 Sweater and Skirt
Autumn/Winter 1983
Designer:

Rei Kawakubo

Brand:

Comme des Garçons

Label:

tricot COMME des GARÇONS (sweater) COMME des GARÇONS (skirt)

Material:

Black wool knitted sweater; black wool/nylon mixed knitted skirt.

Credit:

Gift of Comme des Garçons Co., Ltd.
This is an important work from Rei Kawakubo in 1980s. She created a dramatic three-dimensional appearance and gave nuance to the sweater by braiding wide-knit panels crosswise. Her clothes were described as having irregular and awkward shapes, but they had presence and a quiet beauty.
At the beginning of the 1980s, when colors were used abundantly in fashion, Kawakubo's shows in Paris introduced achromatic, unstructured dresses, mainly in black. Kawakubo's clothes, which deviated from the existing aesthetic values in Western countries, were described as having a "beggar look." They were based on the aesthetic values of Japan, which accept shabbiness, and the color in her dress was a tranquil expression of harmonized blacks as in an Chinese-ink painting. Because the black color incorporated a new aspect that extended far beyond the framework of Western color expression, it drew people's attention, and became the color of the age during the 1980s.
Inventory Number(s): AC7843 1993-24-51, AC7824 1993-24-32