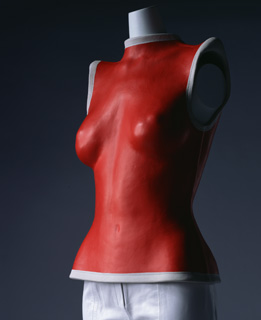 Bodice and Pants
Autumn/Winter 1999
Designer:

Alexander McQueen

Brand:

Givenchy

Label:

GIVENCHY COUTURE

Material:

Red pressed leather-bodice; white leather pants.
This bodice was made by figuratively modeling a woman's torso. The smooth texture of the leather is evocative of the skin of a science fiction cyborg. This bodice is part of a collection introduced as homage to Stanley Kubrick(1928–1999), the movie director known for his "2001: A Space Odyssey." On the verge of entering of the 21st century, the designer expressed a futuristic image.
Alexander McQueen, who made his debut at London in 1993, was highly appreciated for his modern and avant-garde designs based on the tailoring skills he acquired at Savile Row. Since 1997 to 2001, he worked as a designer for Givenchy, one of the well-known Haute Couture fashion houses in Paris. After that he played an active role in fashion circles with his own brand. He passed away in 2010.
Inventory Number(s): AC10105 99-17AB