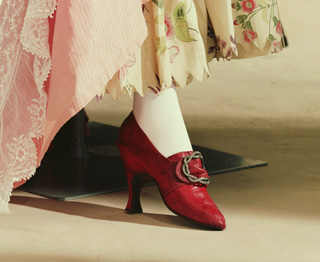 Material:

Red morocco leather, high heels

Dimension:

23.0cm (length) / 6.5cm (width) / 10.0cm (height of heel)
These women's high-heel shoes in a refined style are made of morocco leather. In the 18th century, women's shoes for dressing up were often made of the same gorgeous silk fabric as their robes. These, however, are an example of high quality morocco (tanned goat leather), used for luxury shoes, gloves, bookbindings, and furniture coverings.
Inventory Number(s): AC5393 1986-26-5AB