In the latter part of the 20th century, Japanese fashion soared to astounding heights throughout the world. Buoyed in part by Japan's remarkable economic growth, it developed its own, original identity over the years. In the 1970s, fashion designers such as Kenzo Takada, Issey Miyake and Hanae Mori presented their works in Paris, and attracted attention of Western eyes. Following in their footsteps, Rei Kawakubo and Yohji Yamamoto made their debut in Paris in 1981. Freed from the conventional aesthetics of western fashion, the works of these Japanese fashion designers were considered "avant-garde" and were met with mixed reception. Notwithstanding, not only was their work distinguished by their unique and highly distinctive talent, but it was permeated by distinctive characteristics such as "flatness," "achromatic colors," and "emphasis on materials," which exemplified a unique sensitivity developed over centuries of Japanese culture and tradition. The magnitude of their influence on the fashion industry is evident in the fact that there are now many designers of different nationalities who highly respect these Japanese designers, and their so-called "avant-garde" expressions have now become mainstream at various levels in many fields.
 Still younger generations of Japanese designers have connected themselves with sub-cultures such as anime, manga (cartoons) and the Internet. They have detached themselves from the oftentimes highly systematic fashion world, and are trying to ascertain the trends and transitions of society, and perceive the hidden problems therein. Their sincere efforts to establish a new relationship between Man and his clothes are indeed readily apparent.
 What has supported the realization of their ideas in the field of materials is the extremely high level of Japanese dyeing & weaving techniques exemplified by the master-craftsmanship and the pure spirit of inquiry of Kyoto artisans. This exhibition emphasizes the skills and potential of craftsmen and ateliers who, through collaboration with fashion designers, have continued to create new and exciting works. It also provides for in-depth and comprehensive consideration of the unique characteristics of Japanese fashion through various media such as clothes and images, a distinctiveness that has become highly esteemed throughout the world.

Exhibition Name

Future Beauty: The Tradition of Reinvention in Japanese Fashion

Venue

Exhibition Dates

March 21 (Fri./Holiday) - May 11 (Sun.), 2014

Hours

Regular hours
9:30AM-5:00PM (admission until 4:30PM)
Evening hours (every Friday)
9:30AM-8:00PM (Admission until 7:30PM)


Closed Days

Closed on Mondays
Exception: Open on April 28 (Mon.), May 5 (Mon./holiday)

Admission

Adult/Day of admission:1200、Advance:1000、Group(20 or more):900
University students/Day of admission:800、Advance:600、Group(20 or more):500
High school students/Day of admission:500、Advance:300、Group(20 or more):200
Junior high school students and younger/Free
*Exhibition "Czech Posters for Films From the Collection of Terry Posters" and Collection gallery are available with this ticket.
*Visitors with disability and one person accompanying them are admitted free of charge. (Please present certificate at the admission.)


Advance tickets

Ticket Pia (P-code: 765-962)
Lawson (L-code: 58774)
Seven-Eleven
Other Major ticket vendors of the Keihanshin region
*Advance tickets are available for a limited period only. (2014/1/13-3/20)

Organizers

The National Museum of Modern Art, Kyoto
The Kyoto Costume Institute

Sponsors

Ministry of Economy, Trade and Industry, Kyoto Prefecture, Kyoto Prefectural Board of Education, Kyoto City, Kyoto Municipal Board of Education, Kyoto City Museum Association, Kyoto Chamber of Commerce and Industry, Japan Apparel Fashion Industry Council, Nihon Body Fashion Association

Special cooperation

Wacoal Corp.



Cooperation

Nanasai Co., Ltd., Yoshichu Mannequin Co., Ltd., JX Nippon Oil & Energy Corporation, SERIC., Ltd.

Inquiry

The National Museum of Modern Art, Kyoto
Okazaki Enshoji-cho Sakyo-ku, Kyoto 606-8344 JAPAN
The Kyoto Costume Institute
103, Shichi-jo Goshonouchi Minamimachi, Shimogyo-ku, Kyoto 600-8864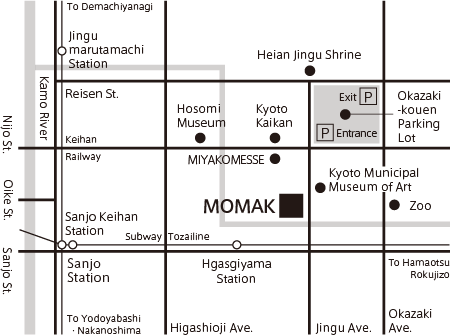 ●From JR/Kintetsu Kyoto Station (Kyoto-eki-mae boarding area A1). Kyoto City Bus No. 5 (toward Iwakura Sōshajō). Get off at "Kyoto Kaikan Bijutsukan-mae".
●From JR/Kintetsu Kyoto Station (Kyoto-eki-mae boarding area D1). Kyoto City Bus No. 100 (express; toward Ginkakuji Temple). Get off at "Kyoto Kaikan Bijutsukan-mae".
●From Hankyū Karasuma Station/Kawaramachi Station or Keihan Sanjō Station. Kyoto City Bus No. 5 (toward Iwakura Sōshajō). Get off at "Kyoto Kaikan Bijutsukan-mae".
●From Hankyū Karasuma Station/Kawaramachi Station or Keihan Gion-Shijō Station. Kyoto City Bus No. 46 (toward Heian Jingū Shrine). Get off at "Kyoto Kaikan Bijutsukan-mae".
●By other bus routes. Get off at "Kyoto Kaikan Bijutsukan-mae". Five-minute walk from "Higashiyama Nijō".
●By subway. Ten-minute walk from Kyoto City subway Tōzai Line "Higashiyama" Station.
*There is no official MoMAK parking lot. Please use the Okazaki-kouen Parking Lot (underground).
Paying visitors can receive a discount for one vehicle per person upon presenting their parking tickets.


As Japan's economy grew in the second half of the 20th century, the originality of Japanese fashion hit the world stage. Looks first shown by Rei Kawakubo and Yohji Yamamoto in Paris at the start of the 1980s were based on ideas that were very different from those of Western aesthetics. Seen as avant garde, not all critics welcomed or them.
The tones preferred by Kawakubo and Yamamoto were those of distinctions of light and shade as described in author Jun'ichiro Tanizaki's
In Praise of Shadows
, or of myriad gradations of black, like sumi-e ink paintings. The black was a shock to the fashion world, presenting an antithesis to the teeming, multi-colored palettes of contemporary Western fashion. Black as a dominant color became synonymous with Japanese fashion, and it became the signature color of the latter part of the 20th century.

 Japanese fashion was sometimes critiqued in the West as being formless - a perception based on a sense that Japanese designers were uninspired by the Western approach of accentuating the female body. Through free manipulation of flat compositions rather than systematic attempts to mold the body, they created spaces (ma) between the body and garment, and sometimes even freeform sculptures standing apart from the wearer.
The flat structure that is one of the characteristics of Japanese kimono can be found around the world, but it was first fully sublimated into sophisticated contemporary fashion by Issey Miyake's Pleats Please. This characteristic can also be seen in Rei Kawakubo's earliest collections, and has a clear presence in her recent work. The idea of origami, in which a three-dimensional shape emerges from a flat beginning, also informed the distinctive approach of Japanese designers. By presenting a new type of structure and moving away from the structural order that had been a long-term objective in the West, the creations of these designers led fashion into a new horizon of fashion design.

The sharp sensibility of Japanese designers towards materials is highly rated worldwide. From an early stage, part of the creativity seen in the clothes produced by Miyake, Kawakubo, Yamamoto, and their contemporaries came from their efforts to develop materials through collaboration with textile designers. That attitude is also evident in the work of designers of subsequent generations, such as Junya Watanabe and Matohu.
When designers called for materials with a new appearance, feel, or function, the Japanese textile industry responded with advanced dyeing techniques and state-of-the-art technology. Kyoto's historical climate has given it a particularly strong connection with this process, as many designers appreciate the city's complement of artisanal skills nurtured by traditional culture in combination with inquiring minds working to evolve those skills by incorporating new technologies. The intersection between designers' creativity and Japan's traditions is the birthplace of Japanese fashion.

Today, the Internet and the flourishing of fast fashion have made it easy for everyone to enjoy fashion. The corollary of that is that we live in an age where things, ideas, and information can be instantly and easily consumed. Working within that trend, the younger generation of designers retain Japanese fashion's traditional approach of placing importance on the production process, while incorporating references to the subculture or weaving original stories and concepts into their products.
Many of these designers are attempting to create garments that enable wearers to sense and appreciate the designer's attitude to manufacture as they go about their everyday activities. In a sense, the wearer, through interaction with the clothes, can weave the next chapter of a story begun by the creator. The value of a single garment or a single piece of fabric was being lost, but that value is now being reassessed, and our fundamental relationship with clothes is changing.

20471120, ANREALAGE, ASEEDONCLÖUD, Aski Kataski, beauty:beast, COMME des GARÇONS, Eatable of Many Orders, FINAL HOME, HANAE MORI, hatra, ISSEY MIYAKE, ISSEY MIYAKE MEN, JUNYA WATANABE COMME des GARÇONS, KENZO, KOJI TATSUNO, mame, Masaya Kushino, matohu, MIHARAYASUHIRO, MIKIO SAKABE, minä perhonen, mintdesigns, mitasu+(HINAYA), Né-net, NICOLE, NORITAKA TATEHANA, ohta, OH! YA?, sacai, SHINICHIRO ARAKAWA, S/STERE, SOMARTA, tao COMME des GARÇONS, TARO HORIUCHI, THEATRE PRODUCTS, UNDERCOVER, Yohji Yamamoto, writtenafterwards.

Takashi Honmma, Kaoru Yokoo



A collaborative project by Parasophia & Future Beauty
"Art + Architecture for the XXⅠcentury: Tate Modern"
Chris Dercon, Director of Tate Modern
Language:English (with consecutive interpretation into Japanese)
Dates:19:00-20:30, April 4 (Fri.), 2014 *Event Finished.
Venue:1F Lobby, The National Museum of Modern Art, Kyoto
Fee:Free, Maximum Capacity 150.
*numbered tickets distributed 17:00 at the information desk of MoMAK.

Lecturer:Masaya Kushino(Designer, Masaya Kushino)×Masataka Hosoo(Brand Director, HOSOO Co., Ltd.)
「Kyoto no dentoh, Genzai kara Mirai he—Kakushin to Chosen」
Date:14:00 - 15:30, March 22 (Sat.), 2014 *Event Finished.
*Japanese Only

Lecturer:Kunihiko Morinaga(Designer, ANREALAGE)
「Iro wo kiru, Iro wo nugu—ANREALAGE to Kyoto no gijutsu」
Date:14:00-15:30, April 19 (Sat. ), 2014 *Event Finished.
*Fully booked. Sorry no further reservation accepted.
*Japanese Only

Lecturer:Hiroyuki Horihata+Makiko Sekiguchi (Designers, matohu)
「Ima Kagayaku Tomoshibi wo —Dentoh to Mode wo tsunagu」
Date:14:00-15:30, May 3 (Sat. ), 2014 *Event Finished.
*Japanese Only
Venue

Auditorium at ground floor of the National Museum of Modern Art, Kyoto

Seats

100 each *Admission for children of preschool age and younger prohibited. Free of charge.


Reservation

The seats will be reserved on a first-come-first-served basis.

Inquiry

Kyoto Costume Institute

Contact

TEL:075(321)9219(Monday to Friday, 9:30-17:00)

Acceptable date

Ⅰ:from Feb. 24 (Mon.), Ⅱ:from March 17 (Mon.), Ⅲ:from April 7(Mon.)


Title: Future Beauty: The Tradition of Reinvention in Japanese Fashion
Format: B5, 226 pages
Language: Japanese
Price: 2,000 yen + tax
Publisher: The Kyoto Costume Institute
Editor:Akiko Fukai, The Kyoto Costume Institute
Editorial Staff: Makoto Ishizeki, Iho Niimi,
        Tamami Suoh, Rie Nii, Naoko Tsutsui, Kumiko Tomonari,
        Hideki Fukushima (The Kyoto Costume Institute)
Book Design: Tsutomu Nishioka
Photography: Kazuo Fukunaga, Takashi Hatakeyama, Richard Haughton,
       Masayuki Hayashi, Taishi Hirokawa, Yasushi Ichikawa, Yuji Ono.
Translation: The Kyoto Costume Institute, Fontaine Limited
Production Coordinated by: Shinobu Kimura (Office Fukumoto Co., Ltd.)
Printed by Nissha Printing Co., Ltd.
Title: Future Beauty: 30 Years of Japanese Fashion (English Version)
Format: Hardback, 256 pages, 250 illustrations, 29 x 20.2 cm (11.5 x 7.75 in.)
Publisher: Merrell Publishers,London, New York
ISBN: 978-1-8589-4546-0
Title: Future Beauty: 30 Years of Japanese Fashion (Japanese Version)
Format: Softback, 256 pages, 250 illustrations, 29 x 20.2 cm (11.5 x 7.75 in.)
Publisher: Heibonsya, Tokyo
ISBN: 978-4-582-62054-2
Price: 2,800 yen+ tax

Title: + Future Beauty: 30 Years of Japanese Fashion
Format: Softcover, 56 pages, 250 illustrations, 29 x 20.2 cm (11.5 x 7.75 in.)
Language: Japanese
Publisher: Heibonsya
ISBN: 978-4-582-62055-9
Price: 1000 yen+ tax