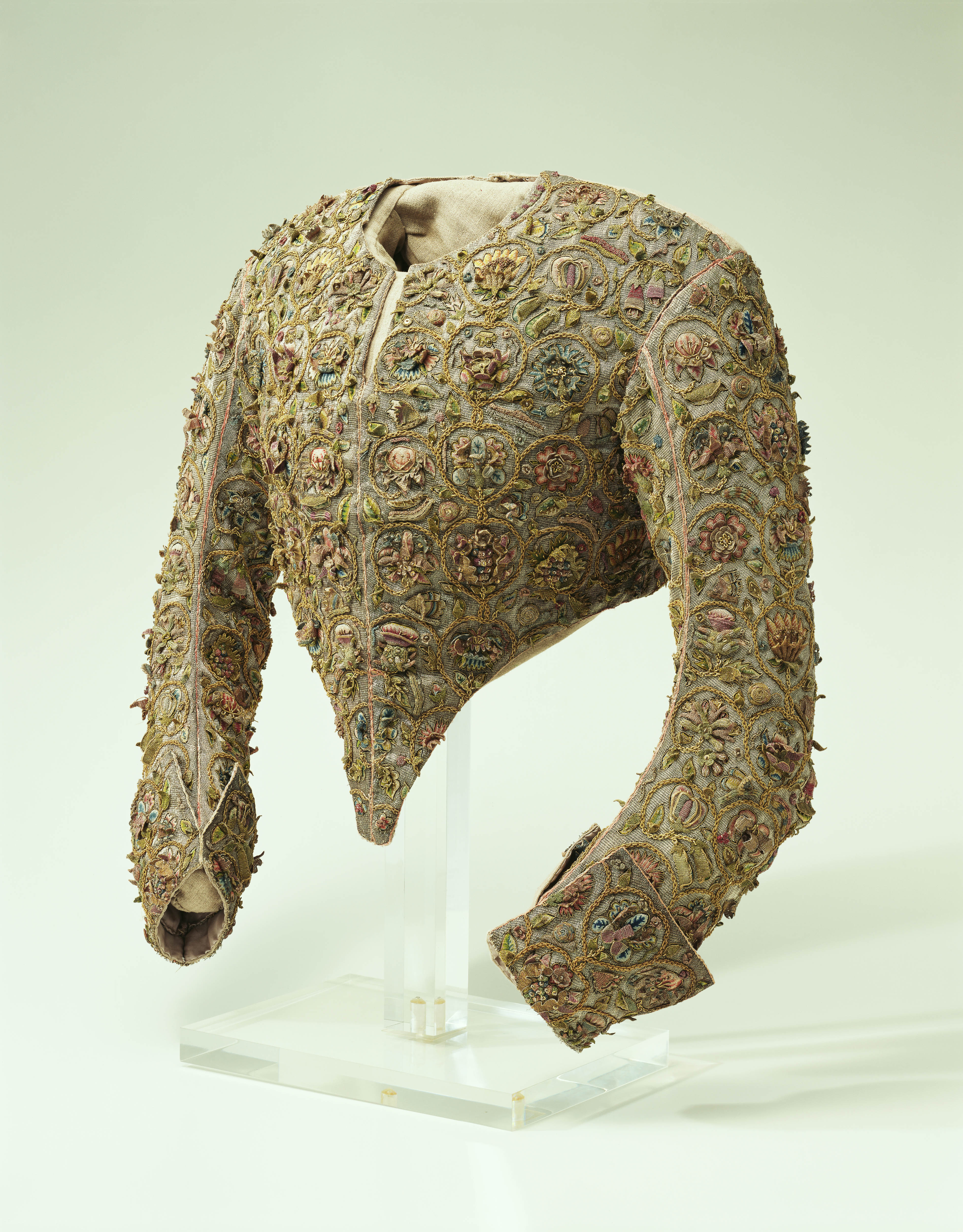 © The Kyoto Costume Institute, photo by Takashi Hatakeyama
You can enlarge by putting the mouse cursor on the image.
Bodice
c.1600 - England
Material

Plain-weave linen embroidered with metal and silk threads; naturalistic motifs; probably made as a gift for Elizabeth I of England.

Credit Line

Gift of Wacoal Corp.

Inventory Number(s)

AC6328 89-16
Linen covered by silver thread has embroidered motifs recognizable as flowers or plants, such as roses, peas & beans, forget-me-nots, tulips, irises, carnations, and bellflowers, or as living creatures such as birds, caterpillars, snails, spiders, and snakes. The peas are fattened, the carnation petals are curled, and the insects look as if they are very much alive. These motifs are constructed using a variety of techniques that accentuate their three-dimensionality, and are placed within cartouches formed by creepers of chain-stitched gold thread. Showing the influence of the eulogy of nature popular in 16th century Europe, motifs and arrangements like these were often found in craft products of the period. English embroidery was an important industrial craft during the reign of Elizabeth I of England (1558-1603), and this item demonstrates the pinnacle of contemporary needlework. Called the Devereux Bodice, it is directly associated with the queen. It is reputed to have been given to her as a gift as part of a plea for clemency by the mother of Robert Devereux, 2nd Earl of Essex (1566-1601), who had been the queen's favorite in her later years, and who was executed for treason. As a Renaissance period monarch, the queen was an absolute ruler, and she was also renowned for an unmatched fascination for clothing. Clothes played a role in the communication and projection of power, and this gorgeous, ornamented bodice full of dignity is a statement of the ultimate in luxury. The gift apparently also included a skirt, but only the bodice remains today.