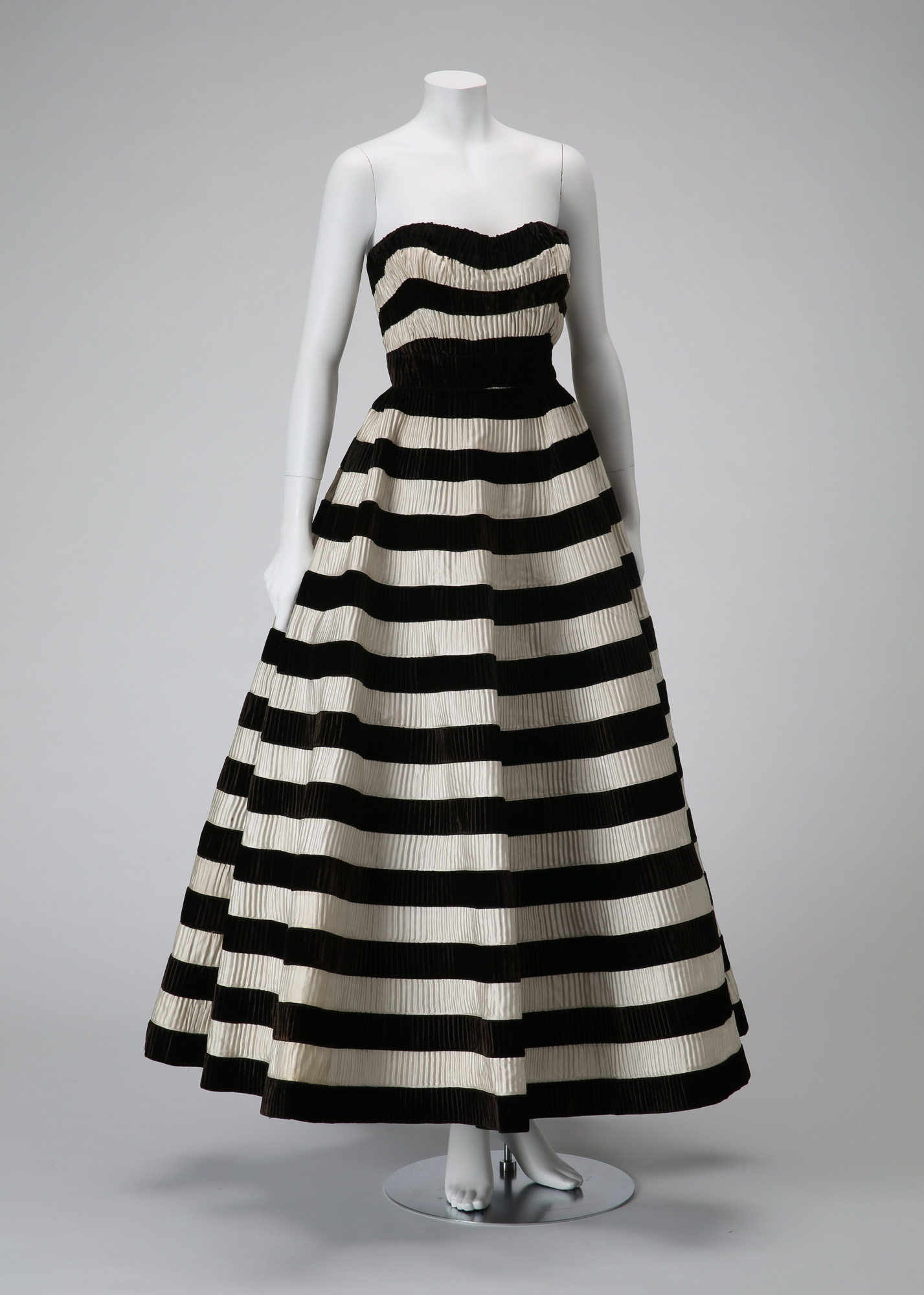 © The Kyoto Costume Institute
You can enlarge by putting the mouse cursor on the image.
Evening dress
1938
Designer

Jeanne Lanvin

Brand

Lanvin

Label

Jeanne Lanvin PARIS / 15 UNIS FRANCE

Material

Pleated ribbon of black velvet and white silk satin on black silk tulle. Bustier and Skirt.

Inventory Number(s)

AC13268 2015-33-2AB
A modern black and white evening dress. The textile used in this dress hasn't been woven in horizontal stripes. In fact, the stripes have been created by alternately sewing 4.7cm wide white silk satin ribbon and black velvet ribbon onto black silk tulle. There are 5 rows of ribbon on the bustier and 21 rows of ribbon on the skirt, creating an effective contrast in the texture of silk satin and velvet. In addition, each strip of ribbon has been pleated before being sewed onto the dress which further enhances the sense of light and dark, resulting in a look that epitomizes elegance. The technique of using ribbon not just as decoration but as the material itself can be seen in designs executed in the 1930s by Jeanne Lanvin, who excelled at creating garments that were delicate and elegant, of which this garment is a typical example.
A similar work is in the Musée de la Mode de la Ville de Paris (Palais Galliera)'s collection. That garment, created in Summer 1938, is a reception dress consisting of a short-sleeved bodice and skirt (1991.79.5AB) and features red silk velvet and white silk satin ribbon. The dress was donated to the museum by a French woman who had worn it at a reception for King George VI and Queen Elizabeth of England on their visit to Paris in July 1938. Sketches for a similar dress in black and white with a short sleeve bodice and skirt can be seen in an album dating to August 1938 and held by the House of Lanvin, and is titled "Révérence". These two examples indicate that black and white two toned dresses featuring silk velvet and silk satin ribbon were being made over two seasons, Summer 1938 and Winter 1938.