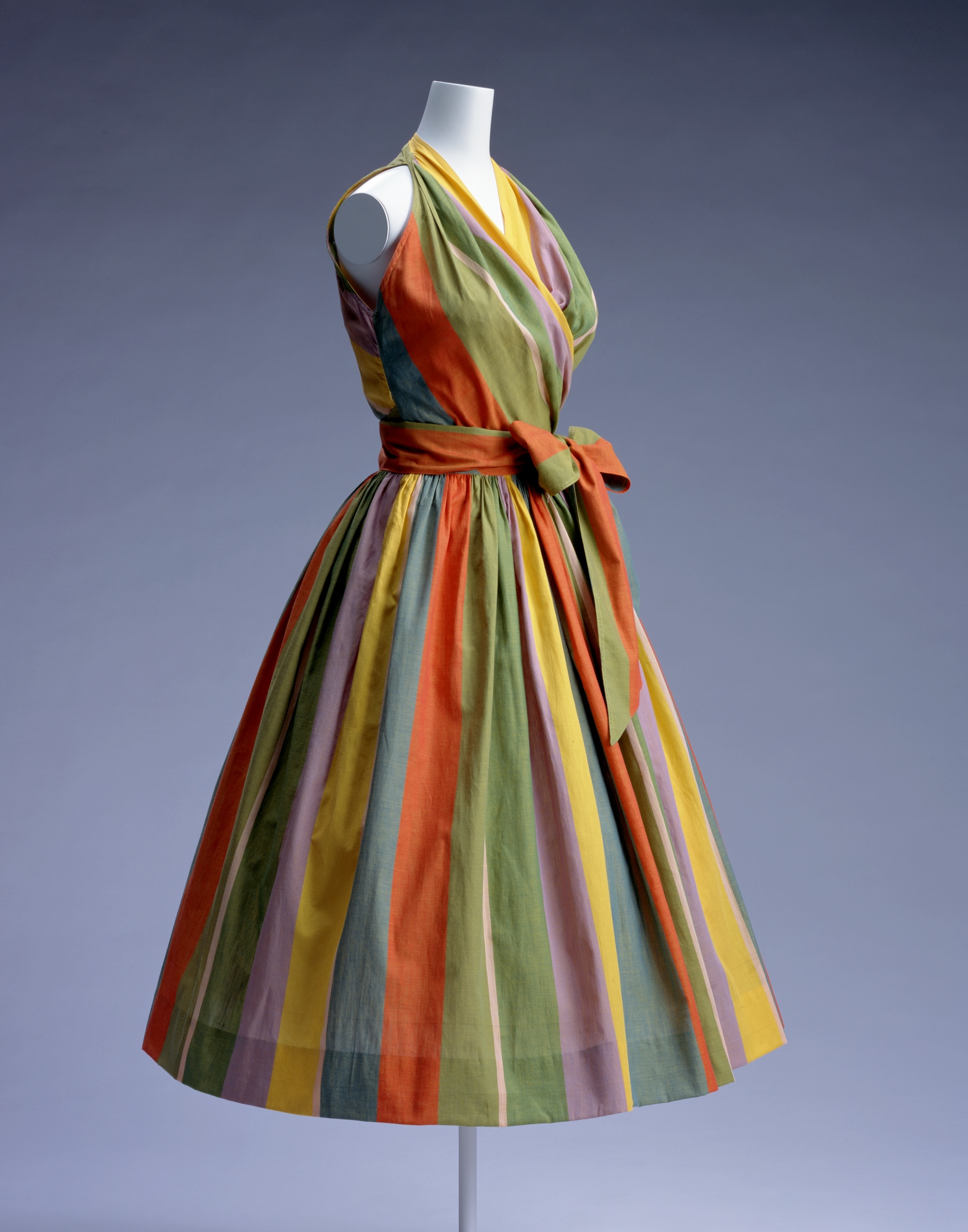 © The Kyoto Costume Institute, photo by Takashi Hatakeyama
You can enlarge by putting the mouse cursor on the image.
Dress
c.1948
Designer

Claire McCardell

Brand

Claire McCardell clothes by Townley

Label

claire mccardell clothes by townley

Material

Multi-striped wrap dress of plain weave cotton; bias-cut with matching belt.

Inventory Number(s)

AC9452 97-16-5
Dress that clearly demonstrates Claire McCardell's talent for sporty and simple design. It achieves a comfortable fit and easy care without compromising the design, producing an elegant silhouette.The elegant silhouette is produced by clothing that is comfortable to wear and easy to care for, without compromising the design. At first glance, it resembles Dior's New Look (1947), but its internal structure is completely different, creating a thin waist and a skirt that spreads out well at the hem without any lining, boning, waist nipper, or petticoat. These lines are produced by a stiff fabric of tightly woven cotton and a bias-cut bodice to give a lean top and a slim waist. The fine gathering at the waist sets off the splaying hem.
Claire McCardell (1905-58) graduated from Parsons School of Design and worked as an in-house designer before launching her own label. American fashion had been under the spell of Paris haute couture since the 19th century, but when World War II cut off the flow of information from Paris, America experimented with its own designs, and McCardell was one of the leaders in that process. In addition to marketing under her own label, McCardell worked as an in-house designer, and can be credited with popularizing ready-to-wear 20th century clothing in America. McCardell attempted to produce clothes that were comfortable, wearable, and multifunctional. Her clothes fitted the female body naturally without needing assistance from foundation garment or underwear, and allowed easy movement. McCardell's name is now strongly associated with the elegant and functional "American look."