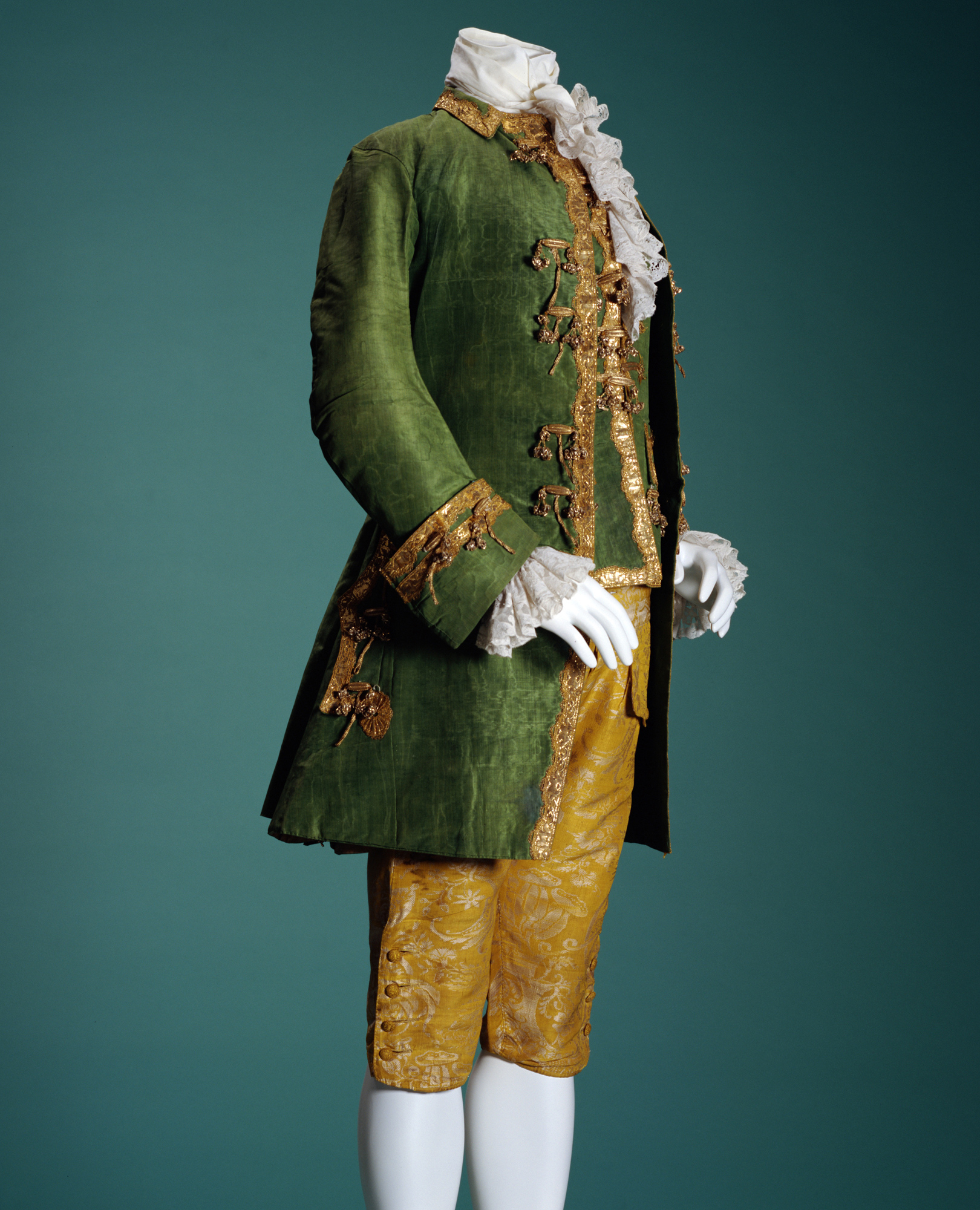 © The Kyoto Costume Institute, photo by Taishi Hirokawa
You can enlarge by putting the mouse cursor on the image.
Men's suit (Jacket, Waistcoat, Breeches)
First half of 18th Century - Italy
Material

Jacket and waistcoat of green silk gros-de-Tours moiré; trimmed with braids and tasseled frog of gold thread; breeches of yellow and white silk brocade with floral motif.

Inventory Number(s)

AC11336 2005-15-1AD, AC11337 2005-15-2
Sumptuous eighteenth-century men's suit. The glossy moiré effect that stands out from the green textile is produced using a horizontally-ribbed material called "gros-de-Tours" by folding the material repeatedly and passing it through a calender under pressure. The resulting textile gained a reputation of being indisputably beautiful. Gold thread is used lavishly for the braid trimmings and frog fastenings. In addition to its rarity value, gold is highly resistant to oxidation, retaining its gleam almost indefinitely. Since ancient times, these properties have made it a valuable tool for flaunting the power and wealth of the wearer. Gold thread also has a long history, and is mentioned in the Old Testament of the Bible, written long before the start of the Christian era. Gold thread takes many forms, but this particular garment includes gold flat strips and gold strips wound around yellow silk thread. The fabric used for the breeches has "bizarre" patterning. Such woven patterns were popular in England, France, and Italy around the end of the 17th Century and beginning of the 18th Century. They use asymmetric arrangements of combinations of plant patterns with elements having an oriental flavor.