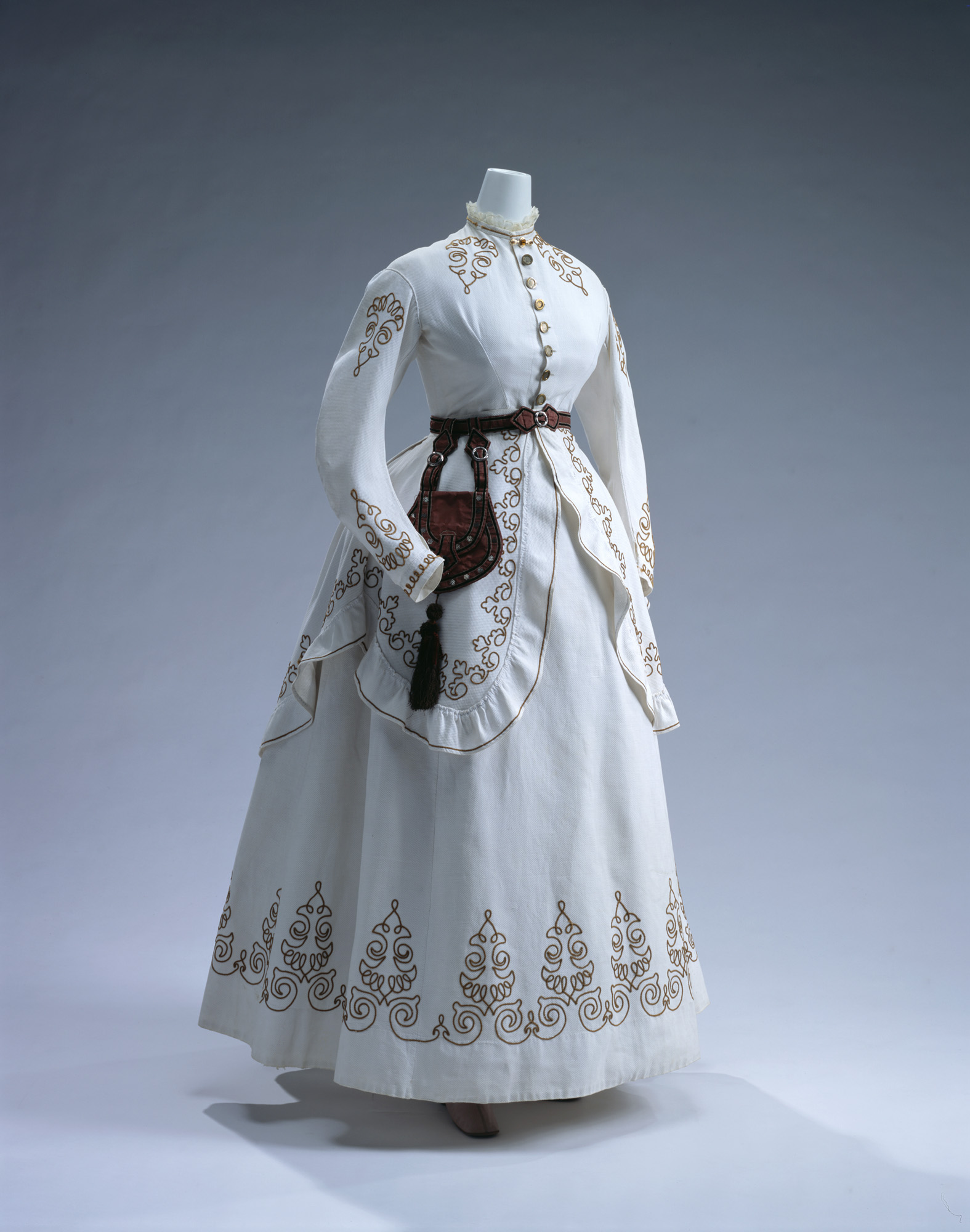 © The Kyoto Costume Institute, photo by Takashi Hatakeyama
You can enlarge by putting the mouse cursor on the image.
Day Dress
1867-1868 - England
Material

White cotton piqué set of bodice, skirt and overskirt; code embroidery of ocher brown cotton threads; metal buttons at front; brown silk taffeta chatelaine.

Inventory Number(s)

AC10225 1999-40-4AC, AC3337 1980-21-23AB
A three-piece dress that has the appearance of a jacket and skirt. The arabesque pattern on the white cotton piqué creates a rhythmical visual effect. The taste for orientalism at the time extended to fashion, with arabesque patterns that were depicted in the paintings of the time frequently appeared in fashion magazines. Also fashionable were walking and travelling wear in cotton piqué with its distinctive rippled texture. The bag version of the chatelaine, a set of chains or clasps from which were suspended keys and other items and which was attached to a woman's belt worn around the waist, was in vogue during the latter half of the 19th Century. As women always carried a parasol in one hand when they went out during the day, the chatelaine bag was particularly favored as it allowed women to go out without the encumbrance of having to carry a handbag.
In the late 19th century a Japan boom spread in the Western countries, partly through world expositions held in various places. Westerners favored Japanese kimonos, sometimes remaking it as into fashionable dresses. In the 1880s, women in the West started to wear kimonos as indoor wear, which was less subject to social constraints, and kimonos became widely popular in Western countries up until the early 20th century. The Japanese word "kimono" is said to have first been used in France in 1876. Now in America and Europe it is generally used to indicate a loose robe worn indoors.