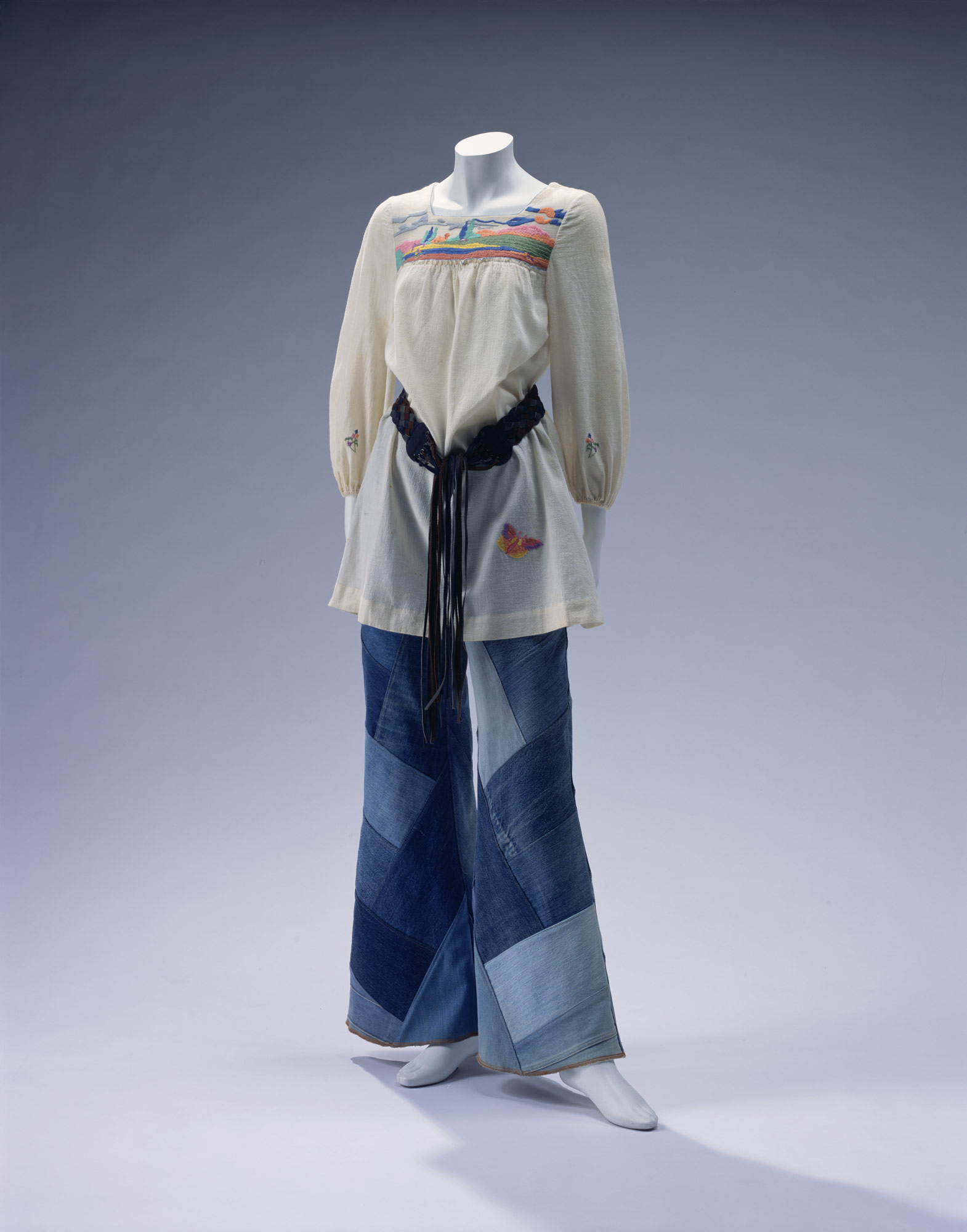 © The Kyoto Costume Institute, photo by Takashi Hatakeyama
You can enlarge by putting the mouse cursor on the image.
Smock [Tops]
Jeans [Bottoms]
Spring/Summer 1971 [Tops]
c. 1971 [Bottoms]
Designer

Emmanuelle Khanh [Tops]
Unknown [Bottoms]

Brand

Emmanuelle Khanh diffusion Froisa [Tops]
Levi's [Bottoms]

Label

Emmanuelle Khanh diffusion Troisa Paris FAIT MAIN [Tops]
Levi's [Bottoms]

Material

White cotton gauze wirh polychrome scenic cotton embroidery near square neck; floral and butterfly-motif embroidery. [Tops]
Deep- and light-color blue denim patchwork bell-bottoms. [Bottoms]

Credit Line

Gift of Ms. Yoshiko Okamura [Tops]

Inventory Number(s)

AC7781 93-22-5 [Tops]
AC9758 99-1-5 [Bottoms]
Emmanuelle Khanh, one of the pioneers of prêt-a-porter, started her career in the 1960s. Smocks were originally worn by the common people in Eastern Europe, and jeans were worn by American laborers. This cotton gauze smock has a yoke embroidered with multi-color cotton threads in patterns of scenery, and sleeves with embroidery of flowers, while the left lower part is embroidered with a butterfly. The label says "FAIT MAIN (HAND MADE)." The jeans is made by patchwork to emphasize the essential aspect of handwork.
The hippie culture, which dominated in the 1960s, created an anti-modern style: long hair for both men and women, hand-made type folklore fashion and ragged jeans. This style was refined in Paris, and eventually it created a boom of fashionable daily wear for young people in the world. Especially jeans spread into every corner of the world to become an essential fashion item for daily wear across the borders of class, generation and gender. After working as a designer for some prêt-a-porter brands in the 1960s, Khanh established her own brand at Paris in 1971. Her casual fashion incorporating handiwork themes achieved popularity.