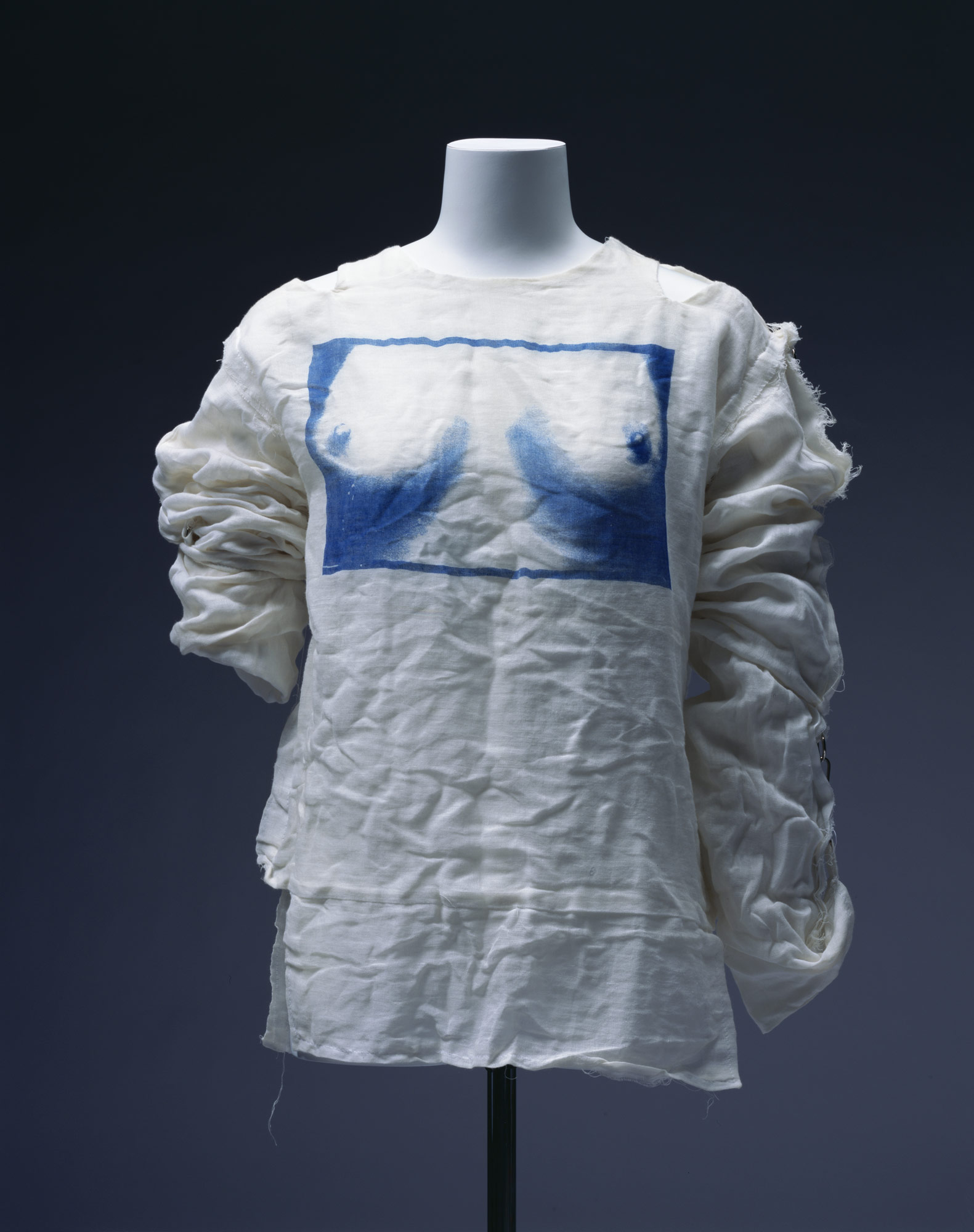 © The Kyoto Costume Institute, photo by Takashi Hatakeyama
You can enlarge by putting the mouse cursor on the image.
Shirt
c. 1977
Designer

Vivienne Westwood and Malcolm McLaren

Brand

Seditionaries

Label

SEDS 430 King's Rd., Chelsea tel:351 0764

Material

White cotton gauze with photo print of female breasts; strap; Velcro; metal.

Inventory Number(s)

AC10367 2000-34-2
This shirt with a "Tits" motif, designed by Vivienne Westwood and Malcom McLaren is summing-up their works of the early days. It brought up the paradoxical implication: naked and wearing. If worn by a man, it even stirs uncertainty in gender identity and deranges reality. T-shirts with this motif became well known because Paul Cook (1956–), the Sex Pistols' drummer, wore them. At the end of the 1970s, young people gathered on King's Road in London to express social opposition. They challenged to show their protestation by their fashion: ripped clothes, safety pins, bondage styles and multi-colored hair. They were called "punks." McLaren, Westwood's partner in those days, produced a punk band "Sex Pistols." The Sex Pistols shouted out explicit lyrics that mocked a class-divided society, and wore Punk fashions, available from "Seditionaries", and gained passionate followers among the young generation world-wide. "Seditionaries", collaborated boutique of Westwood and McLaren, was a sacred place of Punk fashion.