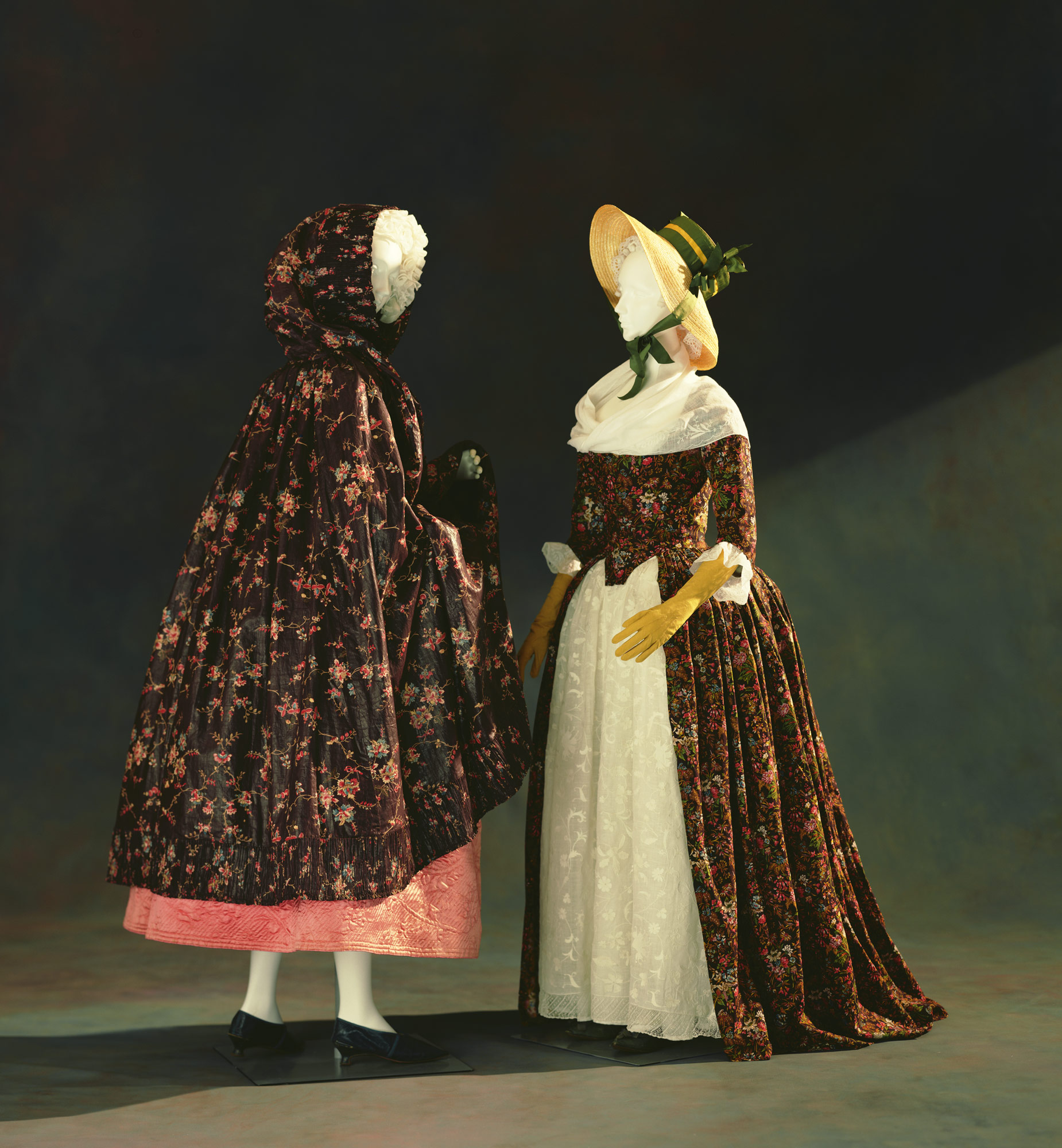 © The Kyoto Costume Institute, photo by Toru Kogure
You can enlarge by putting the mouse cursor on the image.
Hooded Cape, Petticoat [Left]
Dress (robe à l'anglaise) [Right]
c. 1790-1795 - France [Left]
c. 1790-1795 - England [Right]
Material

Hooded cape of dark brown Alsatian printed chintz with Indian floral pattern; pleated trim; cotton lining with small floral print; petticoat of quilted silk satin. [Left]
Brown plain-weave cotton with floral block print; boned at center back; petticoat of cotton whitework with all-over foliate pattern; fichu of cotton whitework. [Right]

Inventory Number(s)

AC4236 82-12-6, AC3848 81-16-7 [Left]
AC5065 85-3-1 [Right]
The cape on the left is "indienne-type" floral patterns were printed on a dark brown color, called "ramoneur" (the chimney sweeper), made in Alsace. The "robe à l'anglaise" on the right is English printed cotton with all-over floral patterns. "Indienne", printed cotton fabric made in India, had been known since 17th century Europe. In 18th century Europe,, the printing industry had been developed and the French Alsace region, Jouy in a town near Versailles became a major center of the printing industry. Printed cotton fabrics became popular for interior decoration as well as for clothing, since their exotic and refined polychrome patterns were appealing. They were called "indienne" (literally 'from India') in France, and "chintz" (derived from Sanskrit 'chitra,' a term for multicolor) in England.