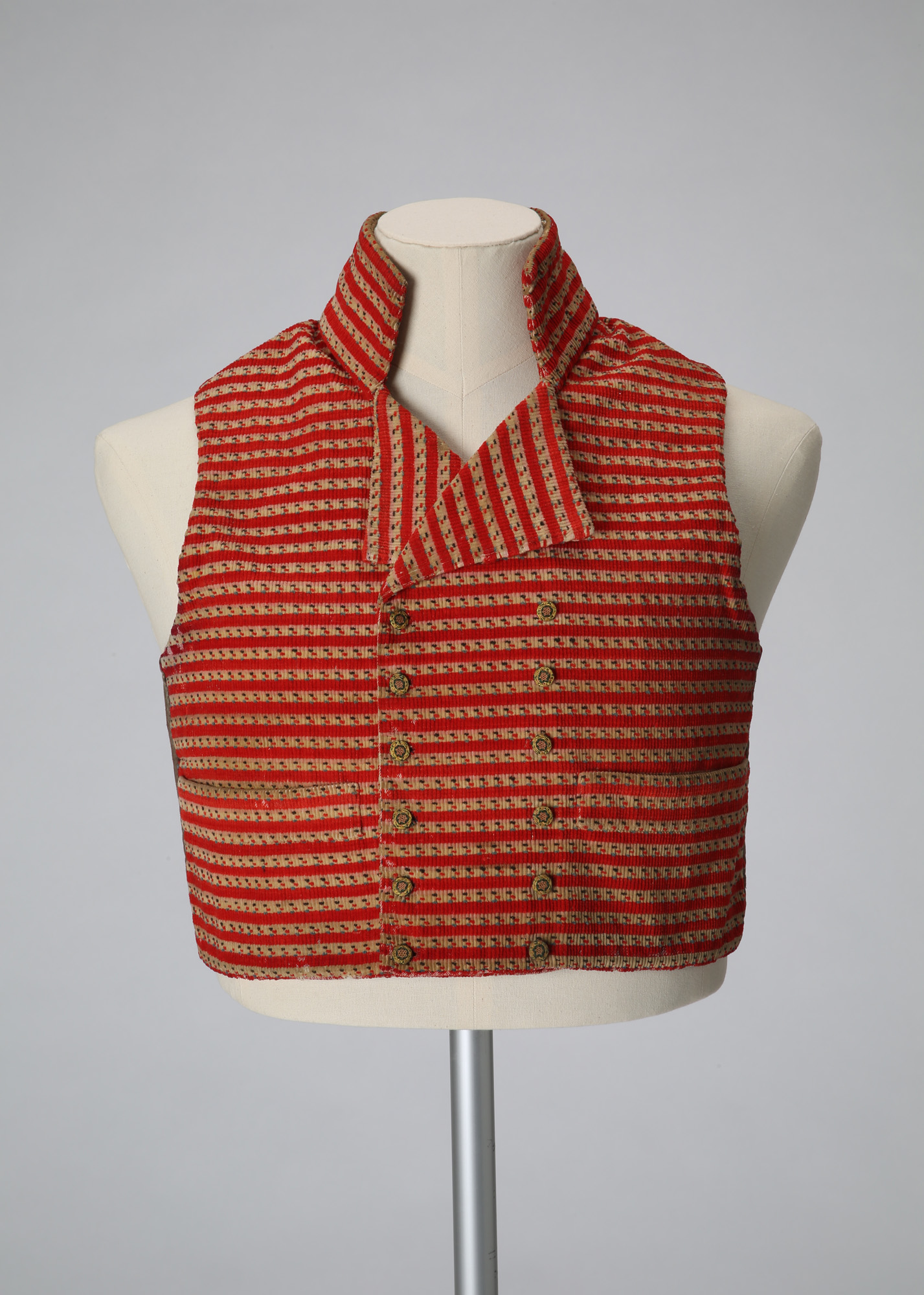 © The Kyoto Costume Institute
You can enlarge by putting the mouse cursor on the image.
Men's waistcoat
the latter half of 1790s - France
Material

Cotton cut-velvet waistcoat with stripe and dot, double breathted, wrapped button, brown cotton twill for back.

Inventory Number(s)

AC13441 2016-18-5
A men's waistcoat from the French Revolution featuring stripes, a fold back lapel and short length. The Anglomania trend at the end of the 17th century continued to influence men's clothing. This simple and functional British garment was popularized in the years immediately before the French Revolution. The elaborate embroidery that had adorned men's clothing worn by aristocrats dropped out of sight, and instead dashing stripes became the fashion. During the 1780s, with the exception of court and evening attire, the waistcoat evolved into a garment that was extremely short in length, with the hem cut across horizontally, to which was added, from the 1790s, a large fold back lapel.
Striped waistcoats with fold back lapels are depicted in paintings such as "Portrait of Maximilien Robespierre" (circa 1790, artist unknown, Musée Carnavalet) and "Portrait of a Sans-Culotte" by Louis-Léopold Boilly (1792, Musée Carnavalet). Striped waistcoats for both men and women feature frequently from 1785 to 1789 in fashion magazine "Magasin des Modes Nouvelles", indicating that the striped patern which had first appeared in the 1770s had become even more fashionable.
By the first half of the 19th century, flamboyancy had almost completely disappeared from men's clothing, The overall look instead featured predominantly plain, dark colors, but the waistcoat stood out as the only garment that added bright color.