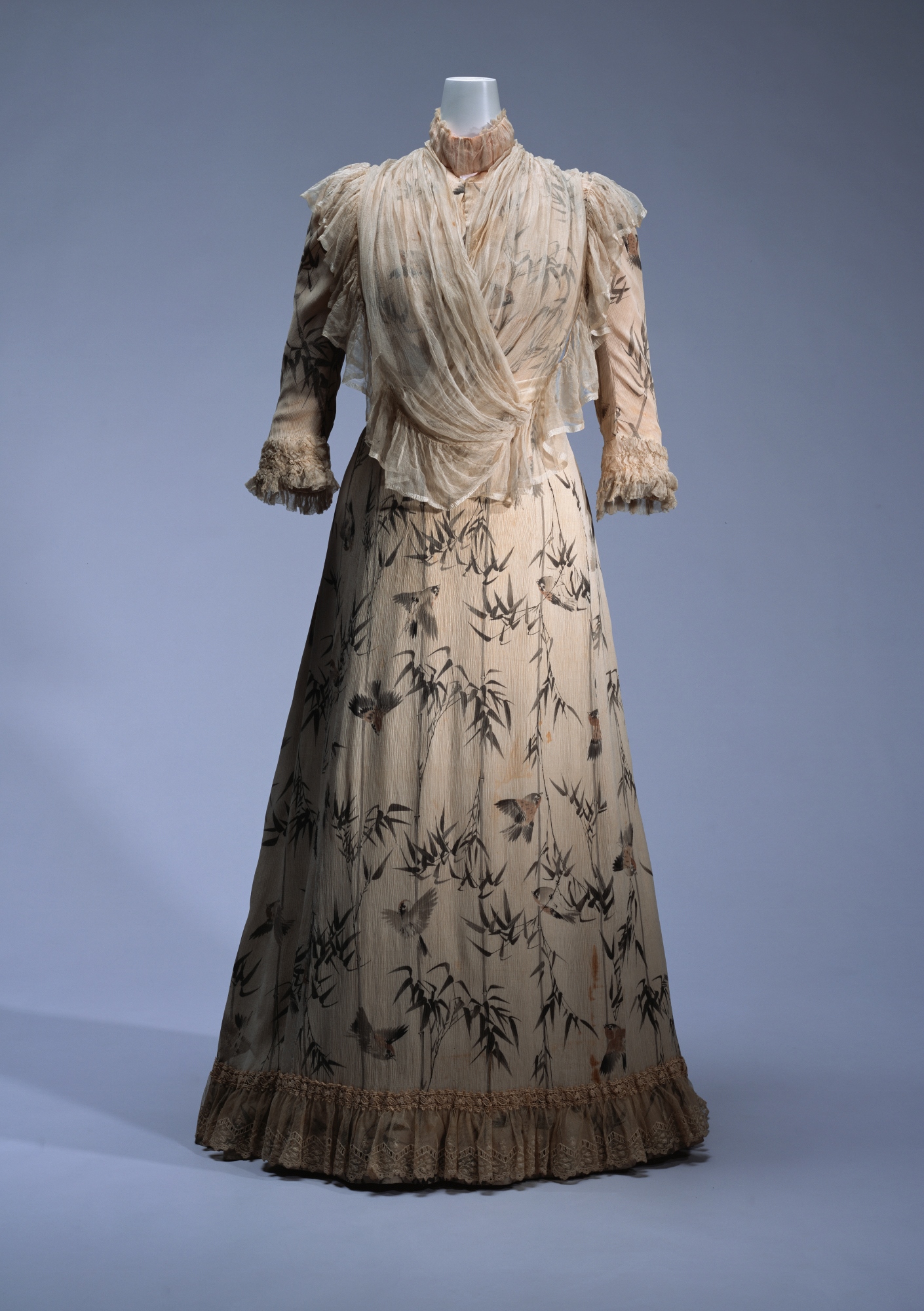 © The Kyoto Costume Institute, photo by Takashi Hatakeyama
You can enlarge by putting the mouse cursor on the image.
Day Dress
c. 1890
Designer

Jacques Doucet

Brand

Doucet

Label

DOUCET 21 RUE DE LA PAIX PARIS

Material

Ivory silk "crêpe de Chine", stencil printed of bamboo motif and hand painted of sparrow motif by Yuzen process of dyeing: silk chiffon fichu: puffed sleeves with chiffon frill at cuffs.

Inventory Number(s)

AC10445 2001-4AC
Day dress in yoryu (silk "crêpe de Chine") broadloom fabric made in Japan. The lightweight material with typical Japanese motifs has been made into a dress in line with the fashions of the time. This fascinating garment demonstrates the interest that Doucet, the luxury Paris clothing house, had in Japanese influence.
With the Japonisme trend, after the Paris Exposition of 1867, Japanese kimono, or kimono fabric repurposed as dresses or coats became a sight in the 1880s. The export of Japanese silk weaves grew rapidly in about 1887, exporting broadwoven fabric. The textile used in this dress is likely to have been manufactured specifically for export. The yoryu fabric made of this dress uses two different Yuzen dyeing techniques: stencil printing for the bamboo, and hand-painting using gojiru for the sparrows. The combination of bamboo and sparrows is a frequent motif in Japanese arts and crafts.
Maison Doucet opened in Paris in 1875. Together with maison Worth and maison Pingat, it was one of the best-known Paris houses in the second half of the 19th century. Worth became very popular outside France, whereas Doucet was a particular favorite of Paris lady. Designer Jacques Doucet (1853-1929) had a deep knowledge of fine arts, and was quick to pick up the Japonisme trend. In addition to being a couturier, he was known as a art collector, acquiring new art such as Picasso's Les Demoiselles d 'Avignon before it was appreciated by the general art market, and also collecting Japanese ceramics and lacquerware.
KCI's collection has a number of examples of clothing by Doucet inspired by Japonisme.