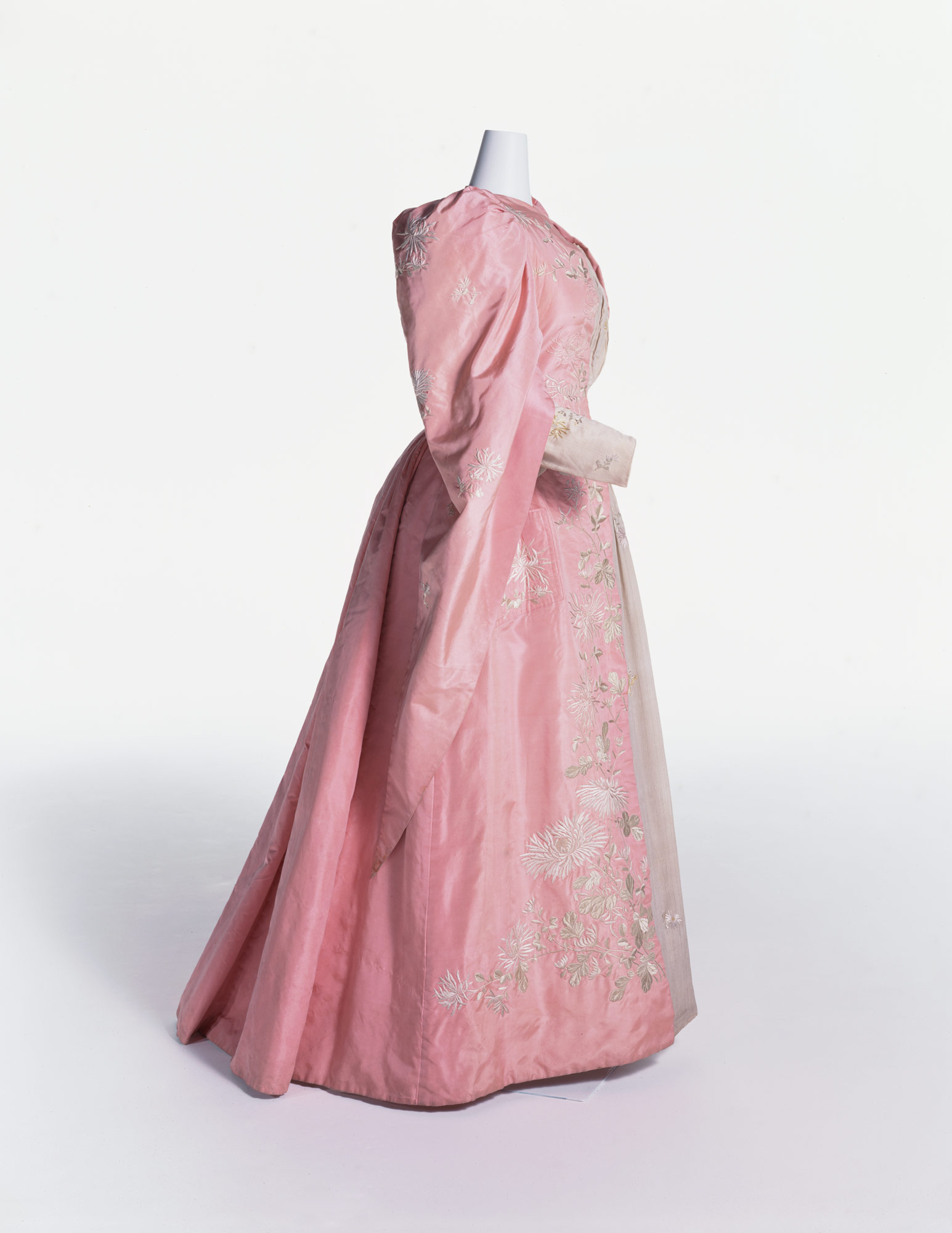 © The Kyoto Costume Institute, photo by Kazumi Kurigami
You can enlarge by putting the mouse cursor on the image.
Tea Gown
c. 1895 - Japan
Material

Pink seigou dress; gray jabot and plastron of yoryu (seigou and yoryu are Japanese textiles); Piedmontèse pleat at back; medieval-like hanging sleeves; lining of habutae silk machine-quilted with cotton.

Inventory Number(s)

AC6993 91-12-14
This tea gown was made in Japan to an order for Western market. Its shape is a mixture of details of the 18th century style and the medieval style, which was revived at the end of the 19th century. It is made of taffeta, known as "seigo" in Japan, and embroidered with chrysanthemum flowers in a Japanese embroidery technique known as "nikuirinui".
A tea gown is an elegant hostess' dress used as informal, indoor wear from the late 19th century to the beginning of 20th century. Women could loosen their tight corset to wear a tea gown. Many famous fashion houses in Paris introduced luxurious tea gowns decorated with laces and frills, which were more popular than the more practical ones made, for instance, by Liberty & Co. in London. Liberty & Co. was founded in 1875, and started importing and selling silk fabrics and indoor wear from Japan. In 1890 they opened a branch at Yokohama, Japan, where they worked with Japanese manufacturers to manufacture dresses and meet the demand. Although no labels remain, it is highly likely from Liberty & Co.