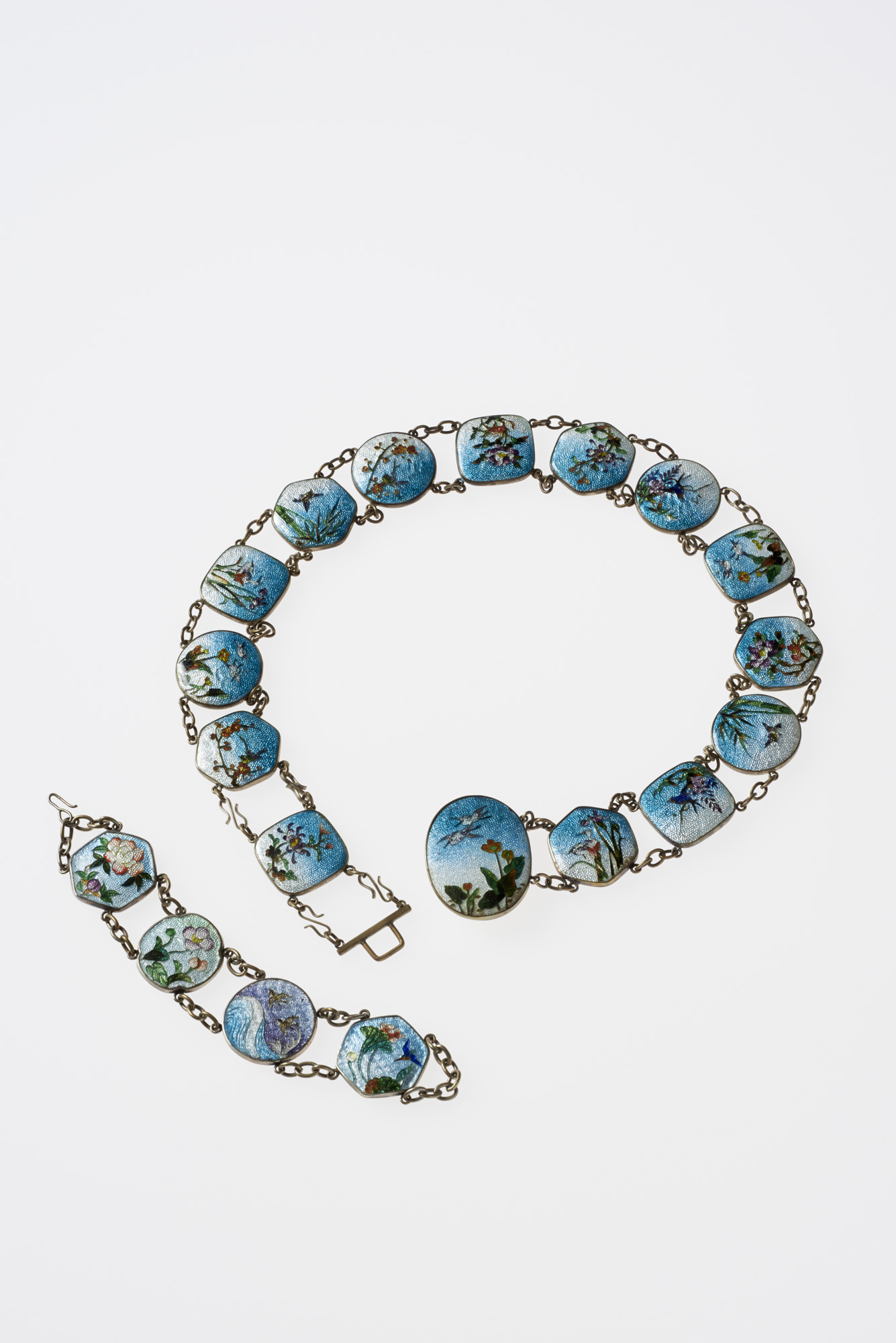 © The Kyoto Costume Institute, photo by Masayuki Hayashi
You can enlarge by putting the mouse cursor on the image.
Bracelet [lower], Belt [upper]
1890-1900s - Japan
Designer

unknown

Brand

unknown

Material

Cloisonné ware with flower and bird motifs, metal.

Inventory Number(s)

AC10187 99-34-2 [lower], AC10186 99-34-1AC [upper]
Flower and bird motifs such as plum, bamboo, wisteria, white heron, and bush warbler are minutely executed in wire cloisonné using thin pieces of metal to outline and separate the elements of the design. Cloisonné ("shippo") became popular in Japan in the Bakumatsu period, the final years of the Edo period, beginning when craftsmen in Owari (the western part of present-day Aichi Prefecture) developed the technique by studying Western cloisonné ware. In 1873, Japan exhibited cloisonné enamel items including buttons, rings, vases, and coffee cups at the Vienna International Exposition. The exposition records show that cloisonné ware, along with thread and tea, was one of Japan's most important exports at the time. In 1875, at the invitation of a German trading company run by Heinrich Ahrens, Kaisuke Tsukamoto and Gottfried Wagener began manufacturing cloisonné for export. Tsukamoto was a cloisonné craftsman from Toshima (an Owari village in the area that later came to be called Shippo Village) and Wagener was a foreign technologist employed by the Meiji government. These items use a transparent enamel that takes advantage of the glassy nature of the glaze to leave the metal base with its dimpled "nanako" pattern visible. The base appears to be copper covered with silver foil, produced by a technique known as "ginbari." Ginbari-shippo with tranparent enamel is said to have been the idea of Jimbei Tsukamoto of Toshima in 1894, and by early 1900s, large numbers of such pieces were being produced in the area.