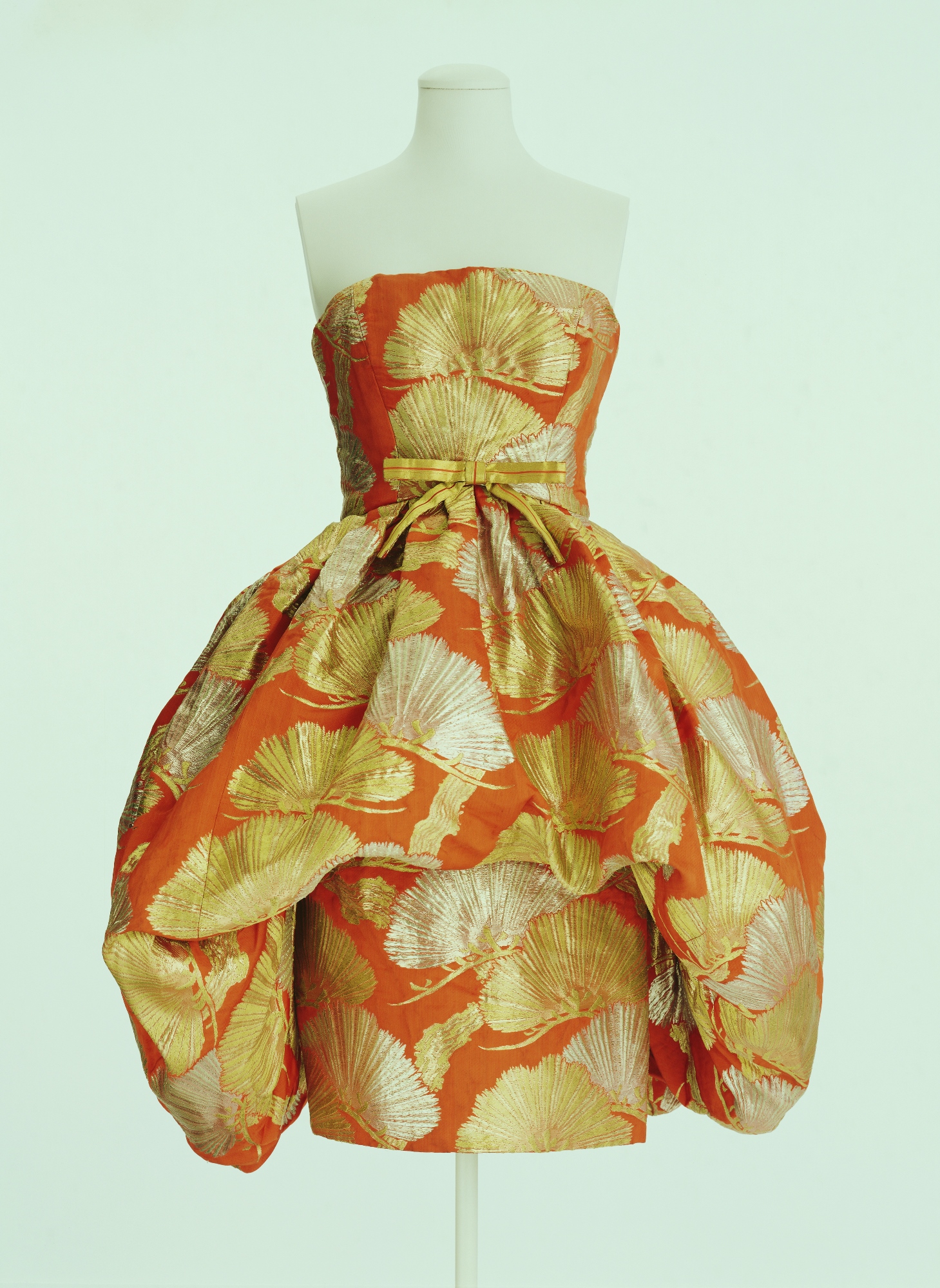 © The Kyoto Costume Institute, photo by Richard Haughton
You can enlarge by putting the mouse cursor on the image.
Cocktail Dress
Spring/Summer 1960
Designer

Yves Saint Laurent

Brand

Salon Daimaru Dior

Label

Christian Dior EXCLUSIVITE POUR LE JAPON par DAIMARU

Material

Material: Orange rayon Kinran woven with gold and silver polyester threads, patterned with pine motif; brassiere inside.

Inventory Number(s)

AC7598 1992-23-6A
A striking dress with a bulging zouave skirt in a jacquard material with a pine motif woven in gold and silver. The zouave skirt is a characteristic design by Yves Saint Laurent, who took over the fashion house after the sudden death of Christian Dior in 1957.
The dress was manufactured by Salon Daimaru Dior, an order-made salon with exclusive rights to the Japan market via an agreement between the Daimaru department store and Dior in 1954. The textile uses "Tetoron," a polyester thread launched in 1958 by Toyo Rayon (now Toray) and Teikoku Jinzo Kenshi (now Teijin).
The haute couture house sold patterns worldwide, authorizing legal copies. In the United States, which had high tariffs on imported apparel, ready-to-ware manufacturers acquired many patterns from haute couture housesand used them as the base for luxury ready-to-wear clothing. In 1948, the year after establishing his house, Christian Dior had set up Christian Dior New York Inc. to sell luxury ready-to-wear clothing and accessories. In 1950, he established a Christian Dior diffusion department to license his designs. This cocktail dress is a product of Dior's global strategy.
Triggered by Daimaru's deal, the 1950s saw a series of tie-ups between Japanese department stores and haute couture maisons, including Isetan with Pierre Balmain, Takashimaya with Pierre Cardin, and Mitsukoshi with Guy Laroche. This marked the beginnings of a period when Japanese consumers gained access to information on Paris fashions in real time.