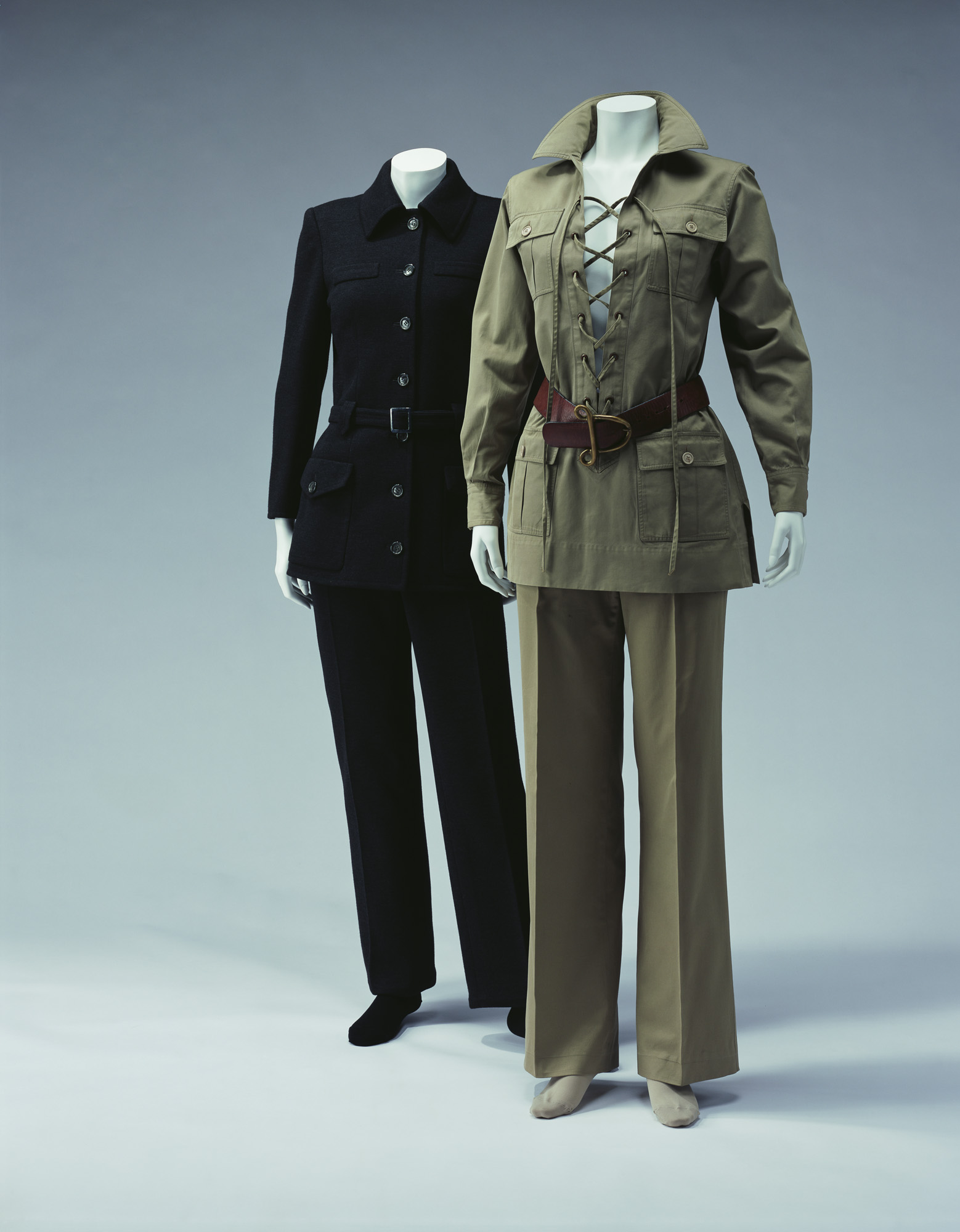 © The Kyoto Costume Institute, photo by Takashi Hatakeyama
You can enlarge by putting the mouse cursor on the image.
Pantsuit "City Pants" [Left]
Safari Suit [Right]
Autumn/Winter 1967 [Left]
Spring/Summer 1968 [Right]
Designer

Yves Saint Laurent [Left]
Yves Saint Laurent [Right]

Brand

Yves Saint Laurent [Left]
Yves Saint Laurent [Right]

Label

None [Left]
SAINT LAURENT rive gauche PARIS [Right]

Material

Charcoal-grey wool jersey jacket with belt and trousers; patch pockets with flap. [Left]
Beige cotton gabardine jacket with front-lacing; patch pocket with flap and pants. [Right]

Credit Line

Gift of Ms. Shoko Hisada [Left]

Inventory Number(s)

AC6600 90-00-1AC [Left]
AC9753 98-47AC [Right]
The May 1968 protests in Paris had a dramatic effect on the values of French society at the time. Yves Saint Laurent used this social movement as his pretext to push on ahead with the Pant Suit for women, something that had been taboo till that moment. Saint Laurent's caliber as a designer is evident in this new look, which, while "unisex," remained ultimately feminine. The garment on the left, Saint Laurent's 'city pants,' was acclaimed for representing the same functionality as a man's suit. The safari suit on the right is from the designer's 1968 Spring Summer collection, the theme of which was "Africa", and in which Saint Laurent reinvented the functional hunting suit and turned it women's town wear.