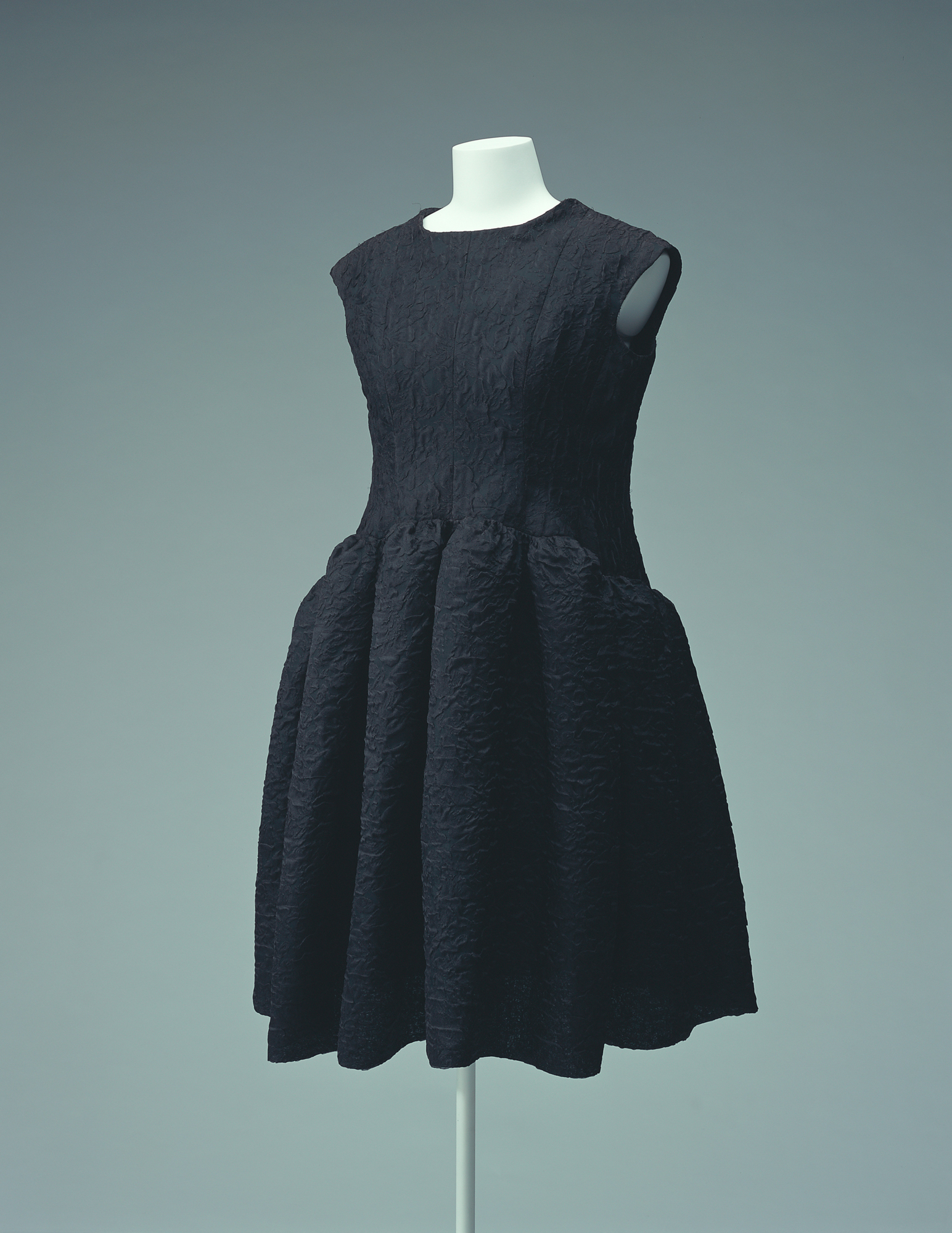 © The Kyoto Costume Institute, photo by Takashi Hatakeyama
You can enlarge by putting the mouse cursor on the image.
Dress
Autumn/Winter 1966
Designer

Cristobal Balenciaga

Brand

Balenciaga

Label

BALENCIAGA 10, AVENUE GEORGE V. PARIS

Material

Black silk cloqué one-piece dress; french sleeves.

Inventory Number(s)

AC4868 84-22-1
Combining an exquisite cut with an intrinsically stiff fabric to produce an expressive, dynamic vertical ribbing, this dress gives testimony to the creativeness which earned Balenciaga his reputation as a genius with scissors. This new silhouette was created using silk cloqué with a woven flower pattern giving stiffness. From the low waistline that gently tapers downwards towards the back, to the skirt section with wave-cut horizontal fabric and the larger-than-usual seam allowances on the sides of the bodice, everything supports the distinctive dynamic vertical ribbing of the skirt.
Maintaining the balance between the silhouette of the dress and the body of the wearer are the full lining of silk organdy, the inside belt, and the weights attached to the seam allowances of the back bodice. The beauty of Balenciaga's sculptured clothing emerges through the innovation of the cutting line and structure of the clothing, rather than by embedding bone here and there and using horsehair support, as had been done in the past. Balenciaga was searching for new, innovative laws of clothing, as typified by his 1955 tunic dress and 1957 baby doll dress. This dress represents the completed form that resulted from his efforts.