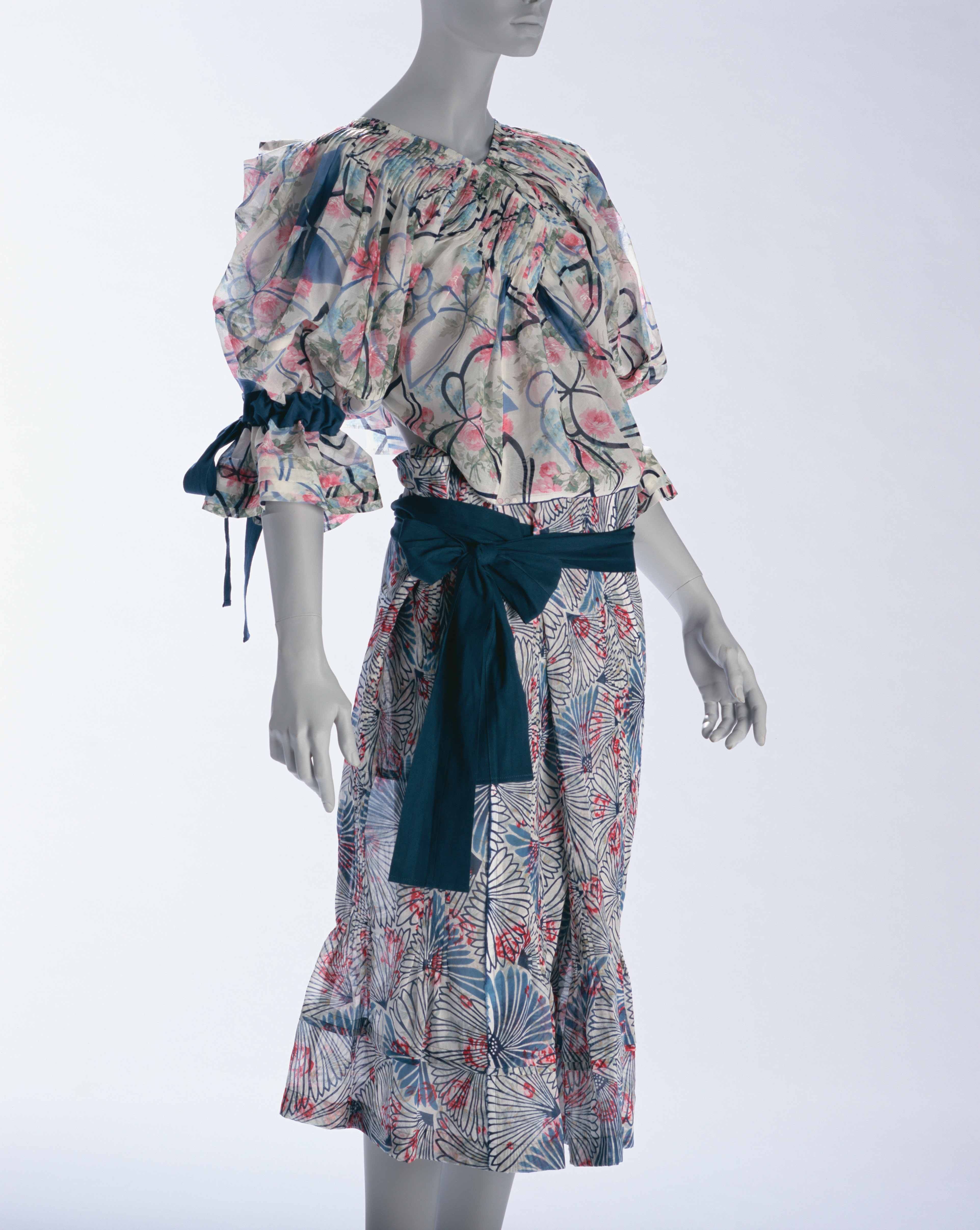 © The Kyoto Costume Institute, photo by Taishi Hirokawa
You can enlarge by putting the mouse cursor on the image.
Top and pants
Spring/Summer 2008
Designer

Tao Kurihara

Brand

Tao Comme des Garçons

Label

tao COMME des GARÇONS

Material

White cotton voile printed multicolor rose flower pattern, over-printed by indigo dye of butterfly pattern (top) and chrysanthemum flower pattern (pants).

Inventory Number(s)

AC11804 2008-17-3AD
Western rose-print fabric is overlaid with traditional Japanese patterns produced using the chusen hand-dyeing technique often employed for yukata fabric. The chusen dyeing is performed by Chikusen, a specialist in Edo pattern dyeing that has been operating since the Edo period. To utilize Chikusen's technique, which is designed for narrow bolts of yukata fabric, the printed cloth is cut in half lengthways before dyeing. Tao Kurihara explained her use of Japanese patterns, saying "looking at the indigo color brings up associations of summer, and contact with the Japanese patterns makes you feel pleasantly cool. That's a delightful effect!" (WWD Japan, October 22, 2007). In addition to attesting to her familiarity with and respect for Japanese cultural tradition, this hinted at the incorporation of a new viewpoint into her designs. Kurihara reexamines the process of producing clothing, taking the time to seek out new artistic expressions and enjoy the strength of the resulting designs. This approach is one that she shares with Comme des Garçons founder Rei Kawakubo and fellow designer Junya Watanabe.