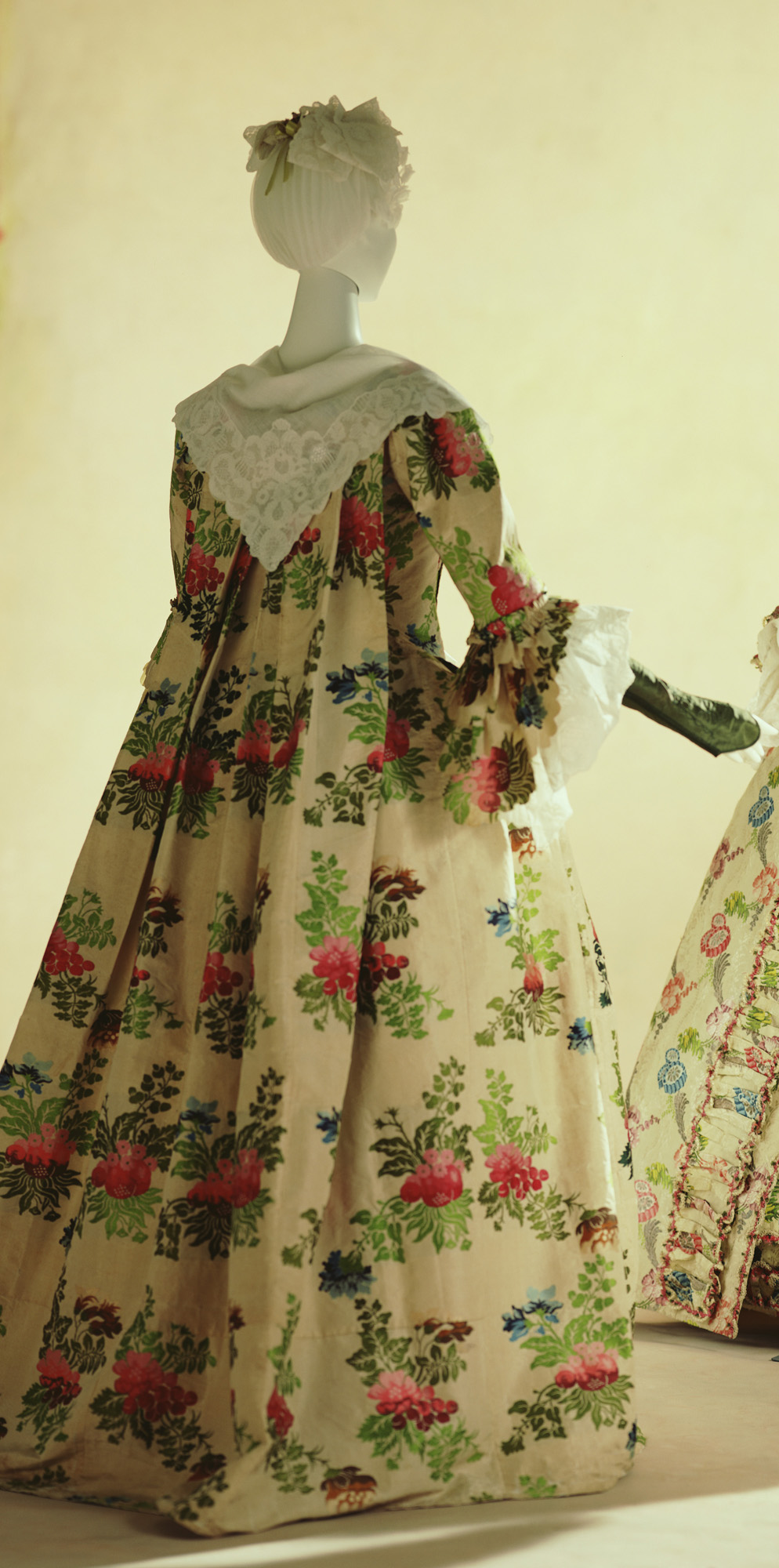 © The Kyoto Costume Institute, photo by Toru Kogure
You can enlarge by putting the mouse cursor on the image.
Item: Dress (robe à la française)
c. 1760 (fabric: c. 1735) - England
Material

Cream brocaded silk with coloured plants, doulcle-flounced pagoda sleeves; matching petticoat.

Inventory Number(s)

AC830 78-24-5AB
A robe à la française of brocaded silk with coloured plants which are not so realistic. The motifs are executed by point rentrés, a technique which enables to create shading and make the motif three dimension by interlocking dark and light colored wefts. The earliest example using point rentrés has been seen in the 1733 mise-en-carte (a point paper which was used to transfer the design into a loom) after the design of Jean Revel, a textile designer in Lyon (Jolly 2002:12). Point rentrés soon propagated to and came into fashion also in England. This particular textile is presumed to have been woven at Spitalfields in the East End of London. At the time, the area was home to a large number of Hugeunots, French protestants who had fled France in 1685 to escape persecution when Louis XIV revoked the 1598 Edict of Nantes that had given them some liberties in their mainly-Catholic country, and many of them were skilled workmen. Spitalfields was one of the places where the refugees settled, and it became a center for the production of silk textiles that required high-level weaving skills. Many silk brocades with a white base, like this one, were woven in Spitalfields. Chertsey Museum (Surrey, U.K.) has a dress using a textile of the identical design reversed left-right.

[Bibliography]
Anna Jolly, Seidengewebe des 18. Jahrhunderts II Naturalismus, Abegg-Stiftung, 2002.
Takahiko Sano ed., British textile design in the Victoria and Albert Museum Volume I The Middle Ages to Rococo (1200-1750), Gakushū Kenkyū Sha, 1980.
Takashi Sunaga, An economic history of Protestant refugees in early modern England, Shō wadō, 2010.
Peter Thornton, "Jean Revel: dessinateur de la grande fabrique", Gazette des Beaux-Arts, July 1960, pp. 71-86.