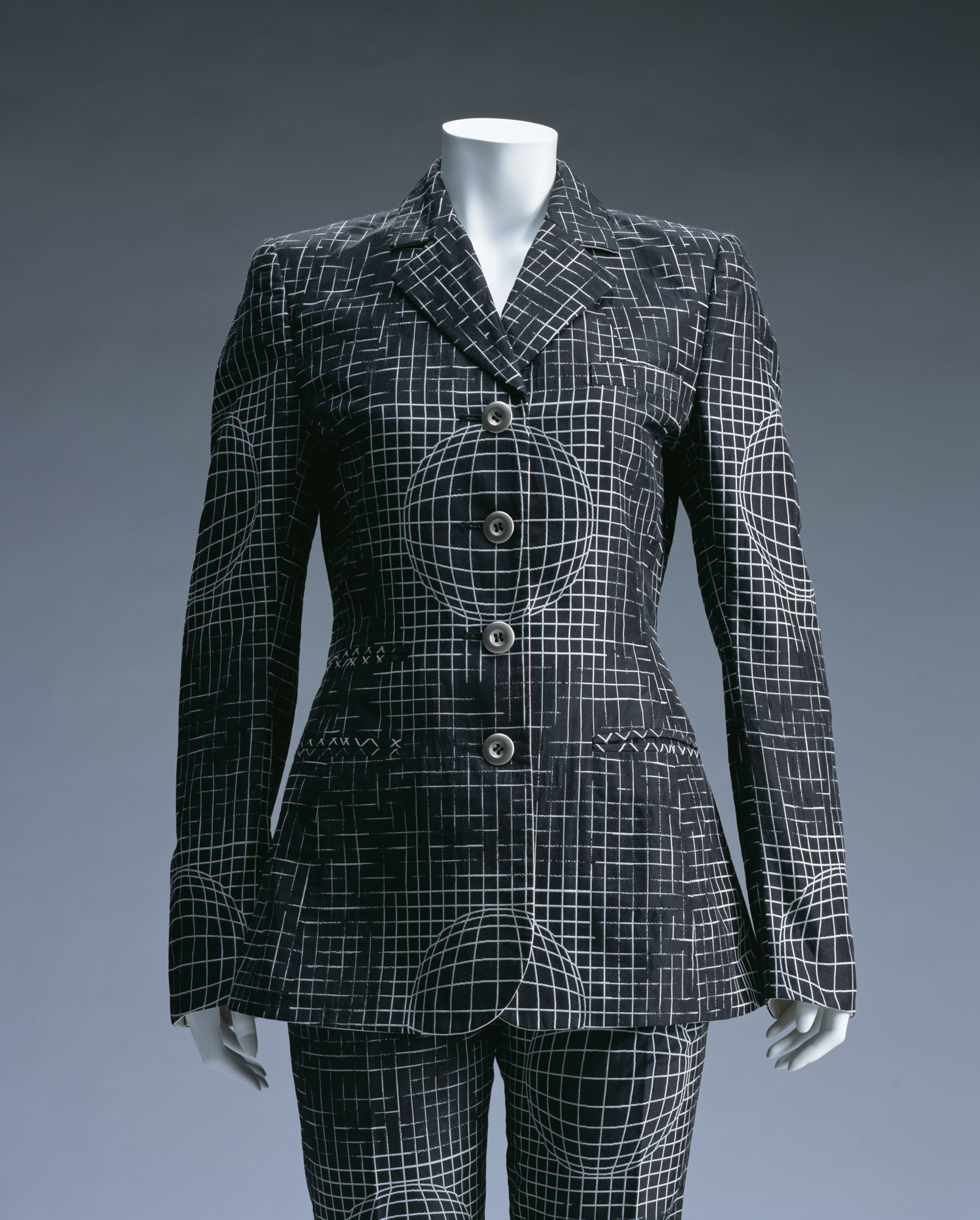 © The Kyoto Costume Institute, photo by Takashi Hatakeyama.
You can enlarge by putting the mouse cursor on the image.
Pantsuit
Autumn/Winter 1996
Designer

Masahiro Nakagawa and Lica

Brand

20471120

Label

20471120

Material

Black nylon and cotton plain-weave with white geometric pattern.

Credit Line

Gift of Ms. Sumiyo Koyama

Inventory Number(s)

AC10158 99-30-21AB
Black suit with fine white grid lines over the whole surface. At regular intervals, the grid morphs into a spherical pattern, producing an effect reminiscent of Op art or wireframe drawing for 3D computer graphics (CG).
In the mid-1990s, high performance gaming machines like Playstation and consumer-oriented operating systems, especially Windows 95, became generally available, and ordinary individuals started to use digital technology such as CG and the Internet. Nakagawa and Lica had a keen sense of the changes going on at that time, and used CG to design the patterns for this suit, ensuring that the woven pattern faithfully reproduced even irregular breaks in the lines.
The duo established their label, Bellissima, in 1992, then in 1994 changed the name to 20471120. Their activities have spanned many different genres, including high fashion, street fashion, subculture, and art. Specifically, they have produced humorous clothes with design motifs such as Tokusatsu heroes and anime characters, and have attracted a great deal of attention by holding large entertainment-oriented fashion shows in venues such as a circus ring, theme park and heliport. They use a doll character, HYOMA, as their brand icon, and have toured art museums with their Recycle Project, in which the designers remake clothes that are no longer needed.