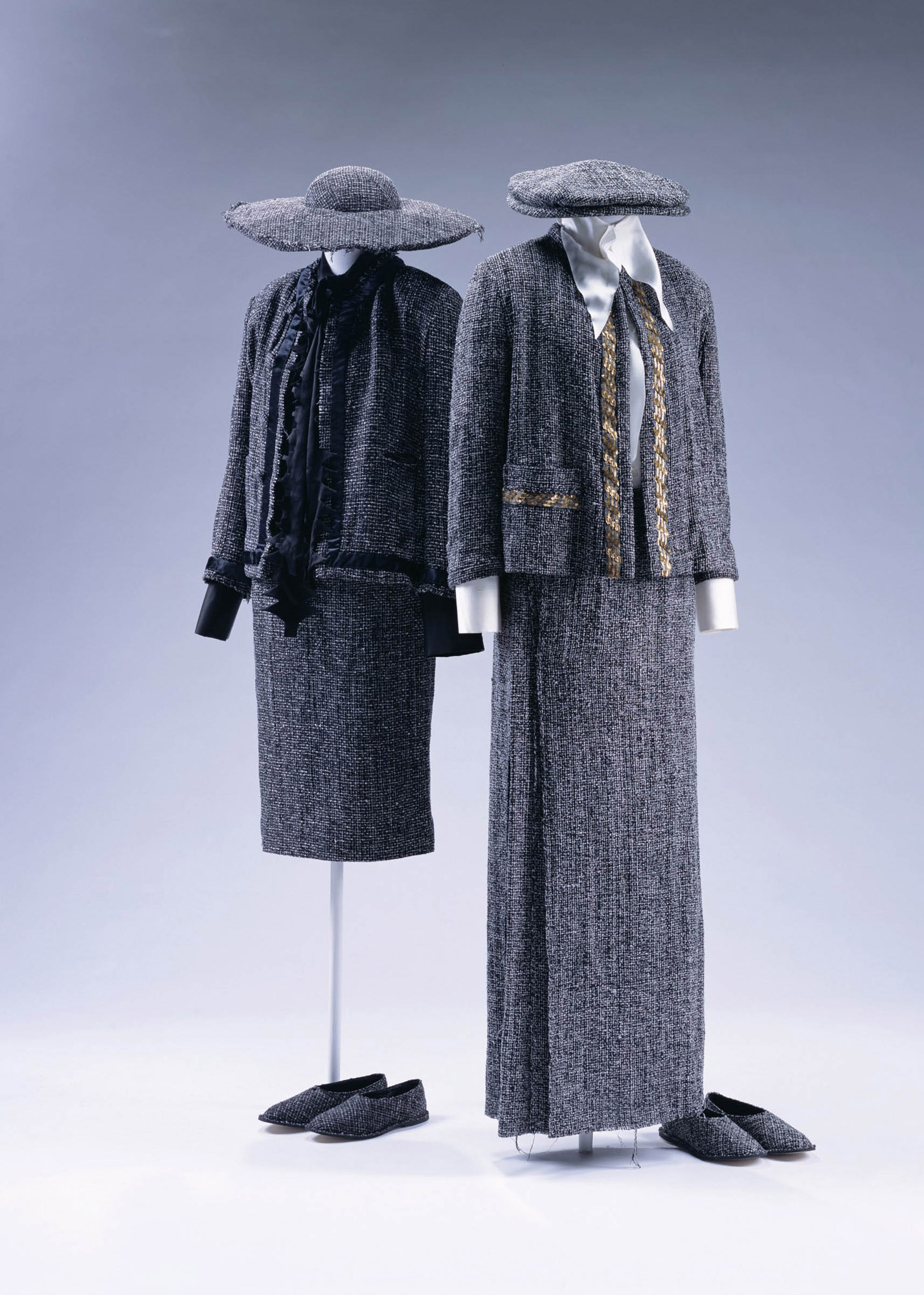 © The Kyoto Costume Institute, photo by Takashi Hatakeyama
You can enlarge by putting the mouse cursor on the image.
Day Ensembles
Spring/Summer 1997
Designer

Yohji Yamamoto

Brand

Yohji Yamamoto

Label

Yohji Yamamoto

Material

[Left] jacket and skirt of black, gray and white silk tweed with black rayon velvet trimming at jacket; black silk satin blouse with a bow; hat and shoes of tweed. [Right] jacket and skirt of black and white silk tweed with gold sequin embroidery at jacket; white silk satin crêpe blouse; beret and pumps of tweed.

Inventory Number(s)

AC9423 97-5-1AF (left), AC9424 97-5-2AF (right)
The Chanel Suit, designed by Gabrielle Chanel for the working woman, is an iconic example of 20th century women's clothing that seemed increasingly more conservative as the decades passed. In this garment, Yohji Yamamoto pays homage to the Chanel Suit while giving his own interpretations of, and updating, the look. The jackets are a little wider and the skirts have been cut off at the hems to leave the edges frayed, while the lengths of the cuffs, the sizes of the collars and the lengths of the skirts create a sense of imbalance that adds a sense of play to the comfort, wearability and the design of the garment. Although the designs may initially appear almost nonchalant, they have in fact been highly calculated, so much so that it's as though Gabriel Chanel has been resurrected in modern times.
In the 1983 Spring Summer collection, Yamamoto showed his monotone, oversized garments artfully ripped and unravelled. Although they can be interpreted as the designer's rejection of authentic Western clothing, it is clear from his designs in following years that he has viewed Western clothing positively. Yamamoto has respected tailoring and paid homage to couturiers of the past, such as Chanel, by resurrecting and modernizing their creations. Yamamoto is unable to overlook the rigid aesthetic that has evolved by being bound by tradition, and the exaggerated sizing and leaving hems cut off are simply his way of putting a modern spin on the look. Like Chanel, Yamamoto pursues a stylish, modern elegance defined by intelligence and sportiness.