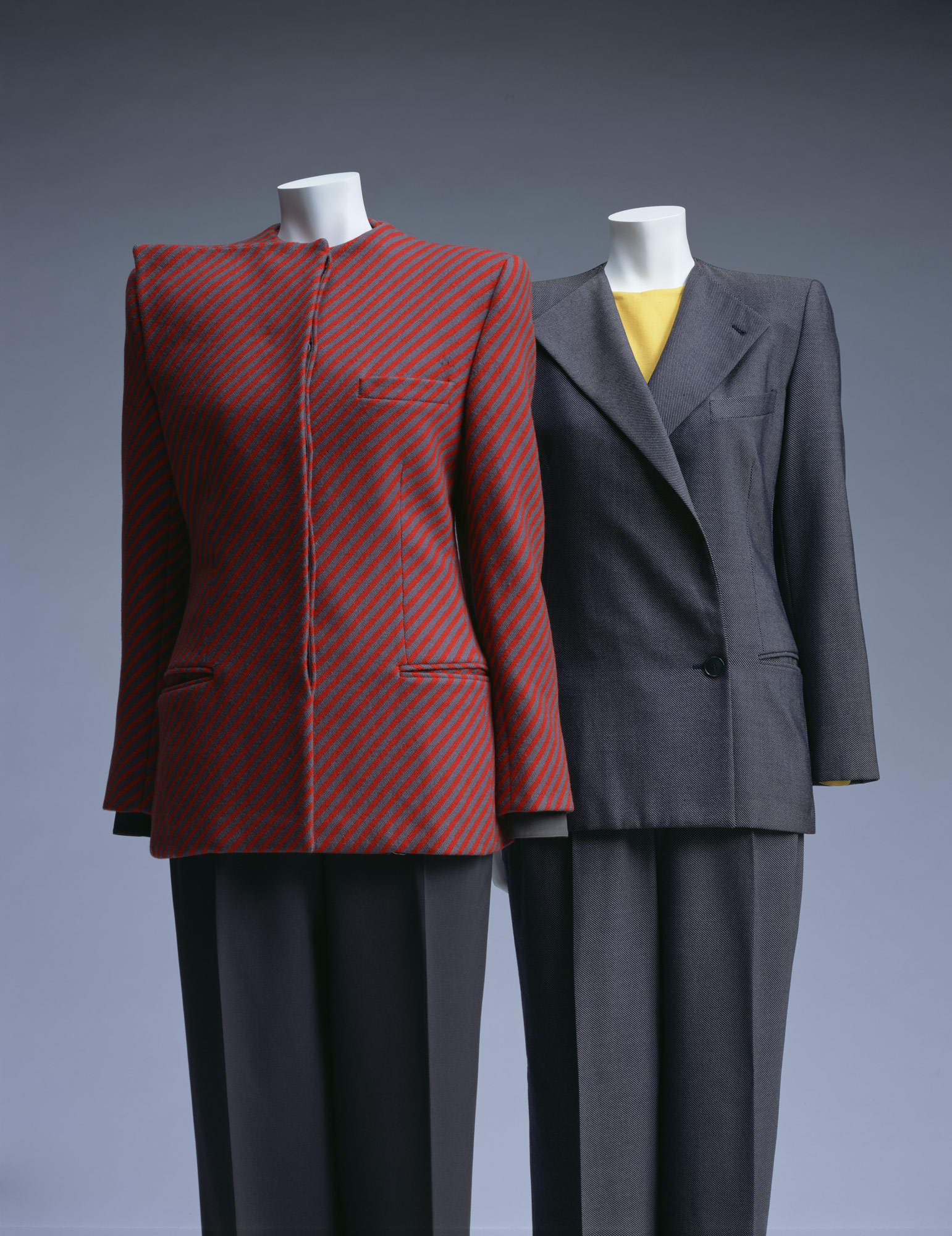 © The Kyoto Costume Institute, photo by Takashi Hatakeyama
You can enlarge by putting the mouse cursor on the image.
Pantsuit [Left]
Pantsuit [Right]
Latter half of 1980s [Left]
Latter half of 1980s [Right]
Designer

Giorgio Armani [Left]
Giorgio Armani [Right]

Brand

Giorgio Armani [Left]
Giorgio Armani [Right]

Label

GIORGIO ARMANI [Left]
GIORGIO ARMANI [Right]

Material

Jacket of red and gray striped, double-faced wool; pants of gray wool gabardine. [Left]
Set of jacket and pants of navy and white striped wool twill. [Right]

Inventory Number(s)

AC10191 99-36-2AC [Left]
AC10192 99-36-3AB [Right]
These high-quality wool pants suits are constructed without lining. They are light to wear. Together with "Chanel suits," Armani's suits were applauded by executive women in the 1980s as a method of casually asserting their status and talent, because of their high quality materials, beautiful tailoring, and comfortableness.
The career of Giorgio Armani, who established his brand in Milan in 1975, started in the field of men's wear. Building on his knowledge of men's wear, Armani introduced new tailored suits for men and women in the 1980s. As a result, he pushed Milan fashion forward internationally, and achieved great success in his own career as well. In order to dismantle and reform existing, overformal jackets, Armani relocated or omitted the pads and lining that were inserted to prevent creasing or wrinkles.
Italy had been utilized as a production site for France, but during the 1980s, it built a strong worldwide reputation as a country that introduced fashion trends alongside France. This was due to the emergence of highly capable designers such as Armani, Gianfranco Ferré (1944–2007), and Gianni Versace (1946–1997).