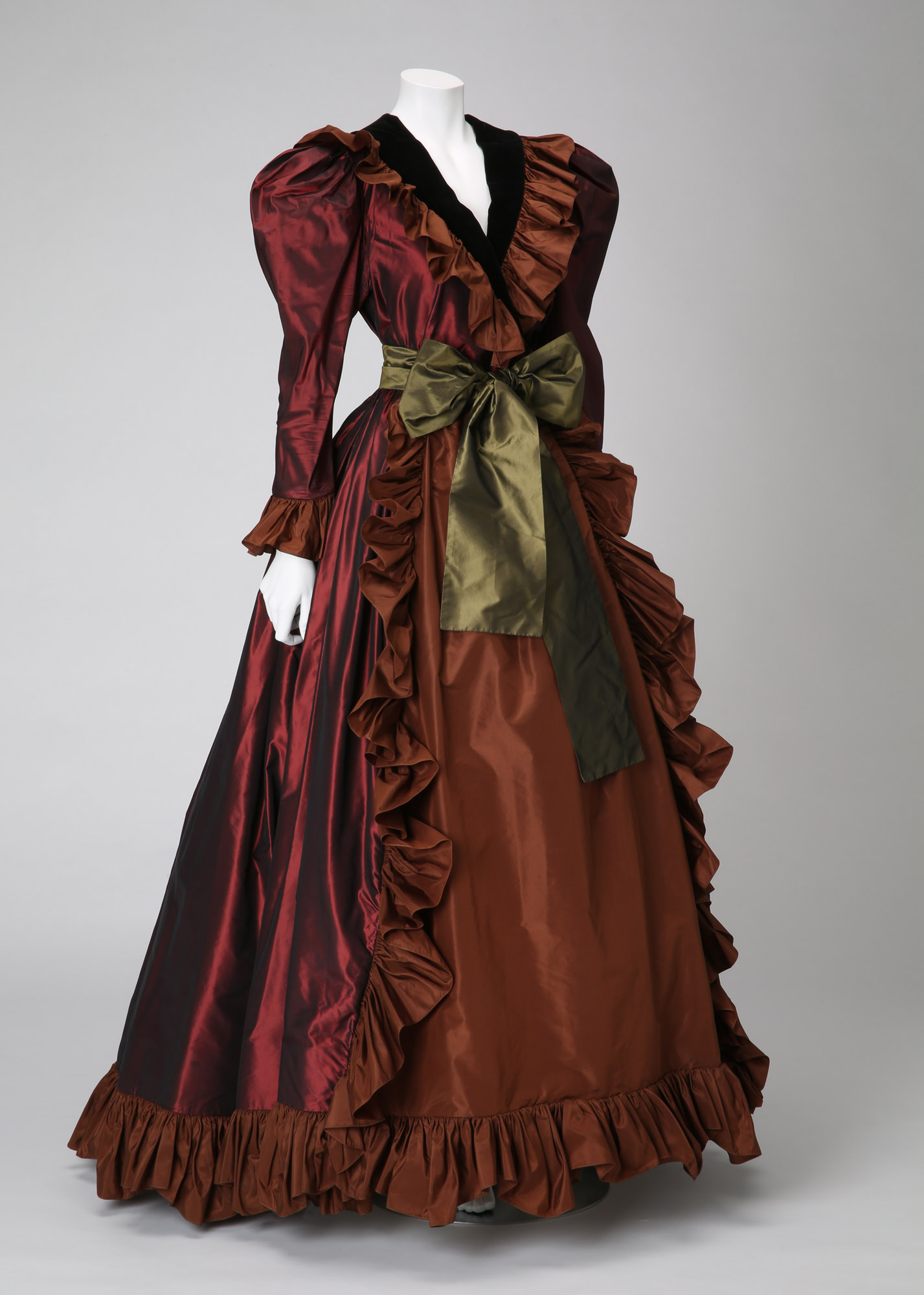 © The Kyoto Costume Institute
You can enlarge by putting the mouse cursor on the image.
Evening dress
c. 1981
Designer

Yves Saint-Laurent

Brand

Yves Saint Laurent

Label

none

Material

Bodice of silk wine-red taffeta, black velvet collar, brown silk taffeta frill at collar and cuff; matching skirt with frill at hem; green silk taffeta sash; petticoats of white nylon tulle.

Credit Line

Gift of Mr. Dominique Miraille

Inventory Number(s)

AC13332 2015-37AE
An evening dress featuring a striking combination of wine red silk changeable taffeta—the fabric that the garment has been created with—and brown frill on the front of the skirt, cuffs and hem. The addition of the moss green sash and black velvet collar creates a chic impression while bringing the look together. At first glance, the rounded shape of the leg-of-mutton sleeves and the fullness of the back of the skirt created by the petticoats could be a garment from the 1890s. It is, however, a haute couture garment by Yves Saint-Laurent [1936–2008] that was worn by contemporary art gallery owner Madame Cavaillès to a reception at the Élysée Palace.
Saint-Laurent attracted acclaim in 1965 for his bold designs incorporating Piet Mondrian's abstractions. Saint-Laurent launched his first pret-a-porter collection in the following year, but continued to use this approach in haute couture. The latter were created using highly sophisticated couture techniques and were homage to artists such as Pablo Picasso (1979, 1988), Fernand Léger (1981), Vincent van Gogh (1988), Georges Braque (1988) and Paul Gauguin (1989).
During the early 1980s (1980 to 1984) Saint-Laurent showed collections that were a nod to Henri Matisse and these include evening dresses referencing, in his Autumn/Winter 1981–1982 haute couture collection, Matisse's 1937 work "Woman in Blue" (in the Philadelphia Museum of Art's collection), or "Small Blue Dress Before a Mirror" (in the National Museum of Moern Art, Kyoto's collection). This particular garment is similar in style to these and is attributed to the same period, and conveys Saint-Laurent's deep admiration of and respect for artists.