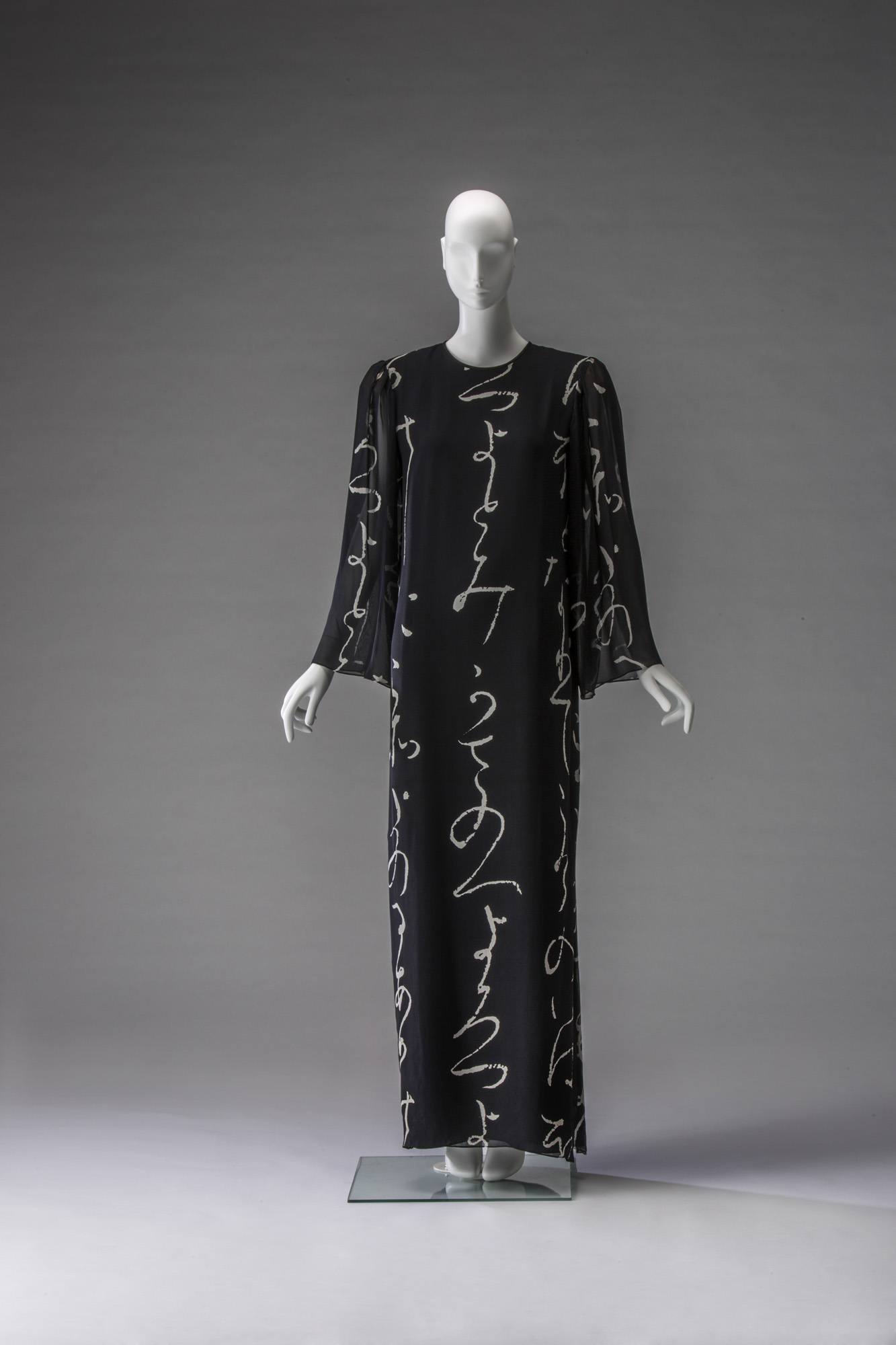 © The Kyoto Costume Institute, photo by Takashi Hatakeyama
You can enlarge by putting the mouse cursor on the image.
Dress
Autumn/Winter 1989
Designer

Mori Hanae

Brand

Hanae Mori Boutique

Label

Hanae Mori Boutique

Material

Silk chiffon; printed with Japanese calligraphy motif.

Inventory Number(s)

AC13457 2016-28
Lines—apparently from a Japanese poem—are written on the thin silk chiffon of this dress in the unique flowing Japanese script called hiragana. The brushstrokes appear in white on a black ground, so they seem to stand out in relief. The vertical rows of hand-calligraphed characters on the delicate fabric, the straight lines of the dress, and the puffy sleeves all sway back and forth with the movement of the wearer.
The practice of incorporating Chinese characters or Japanese script into garments began in the Heian period (794–1185) and became especially popular after the seventeenth century (see fig. 1). Later, script often appeared on clothing as an expression of Japanese chic, stylish and sophisticated, known as iki. In kimono, often decorated with themes taken from poems and stories, the calligraphic characters are frequently presented as designs to be enjoyed in their own right. For example, the source and meaning of the writing on this dress are obscure, rendering the characters elements of pure design.
Mori had her first foreign show in New York in 1965. From the outset she incorporated designs deliberately evocative of Japanese traditional beauty into Western garments, which brought her attention from Western media. In 1977 she was the first East Asian to be invited to the Paris haute couture fashion week, and the iconic piece that she presented at that time—also bearing ink painting and calligraphic designs—came to represent her signature style.