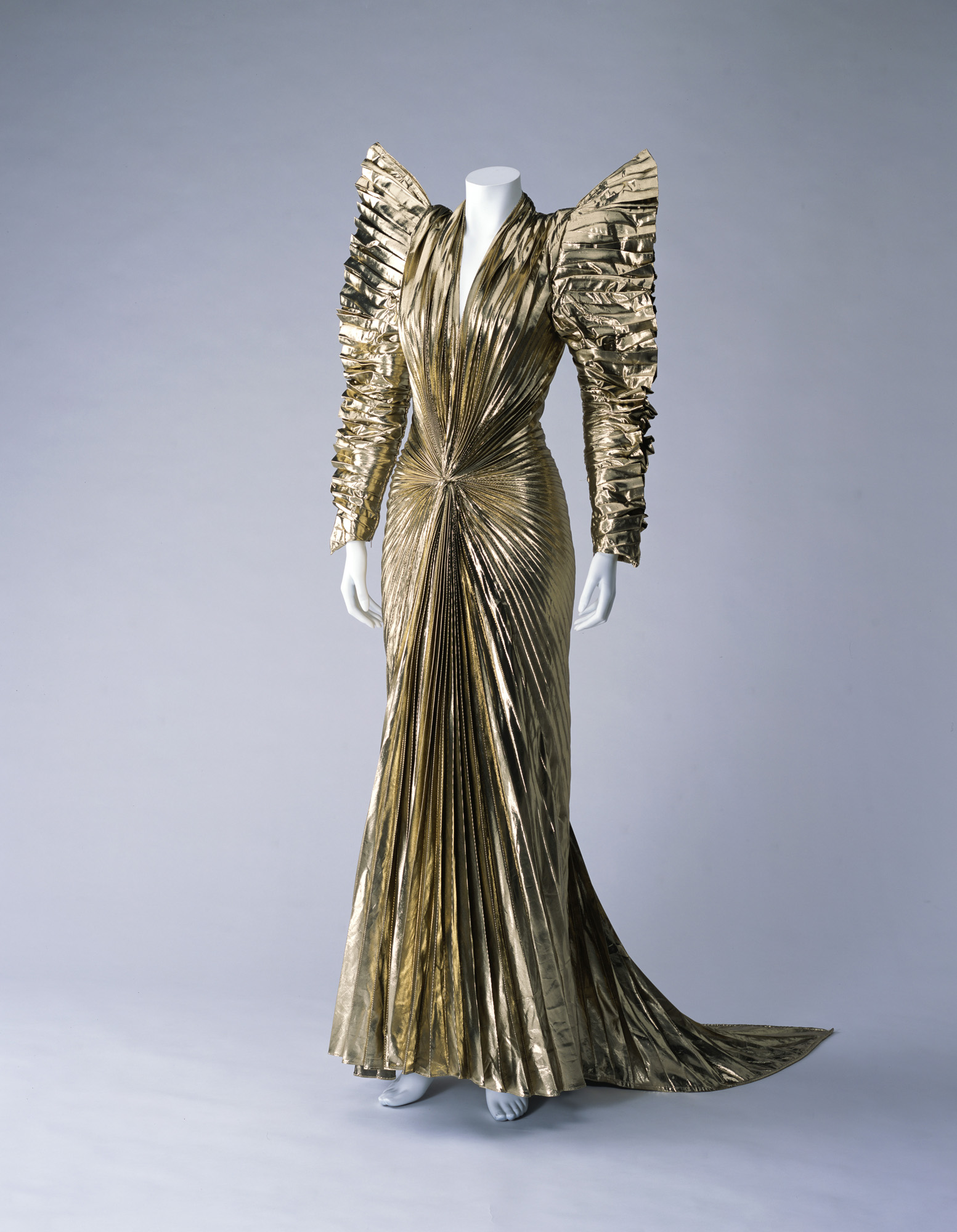 © The Kyoto Costume Institute, photo by Takashi Hatakeyama
You can enlarge by putting the mouse cursor on the image.
Dress
Autumn/Winter 1984 - France
Designer

Thierry Mugler

Brand

Thierry Mugler

Label

none

Material

Gold accordion-pleated polyester lamé with a train, pleated wide sleeves, extremely-pointed padded shoulders.

Credit Line

Gift of Mr. Thierry Mugler

Inventory Number(s)

AC5092 85-11-1
Narrow, regular pleating of this dress brings out the wearer's silhouette, while ensuring that her body is not constrained by the fabric. The ideal body is seen as the lithe physique honed by exercise and diet that we know today. The glossiness of the golden lamé combined with the three-dimensionality of the pleats produce a complex, gleaming texture that lead both the wearer and those who see her into a different world.
Thierry Mugler introduced spectacle into his fashion shows at an early stage. For the autumn/winter 1984-85 collection that included this dress, he combined the show with an event marking the brand's 10th anniversary at the Zénith concert hall in Paris. Before a massive crowd for a fashion show, 2,000 invited guests and 4,000 ticket-buyers, he presented a massive performance. For Mugler, who had spent his youth as a ballet dancer, such a gorgeous festival-like atmosphere was surely the ideal space for the magnificent encounter between physique and fashion that he engineered.