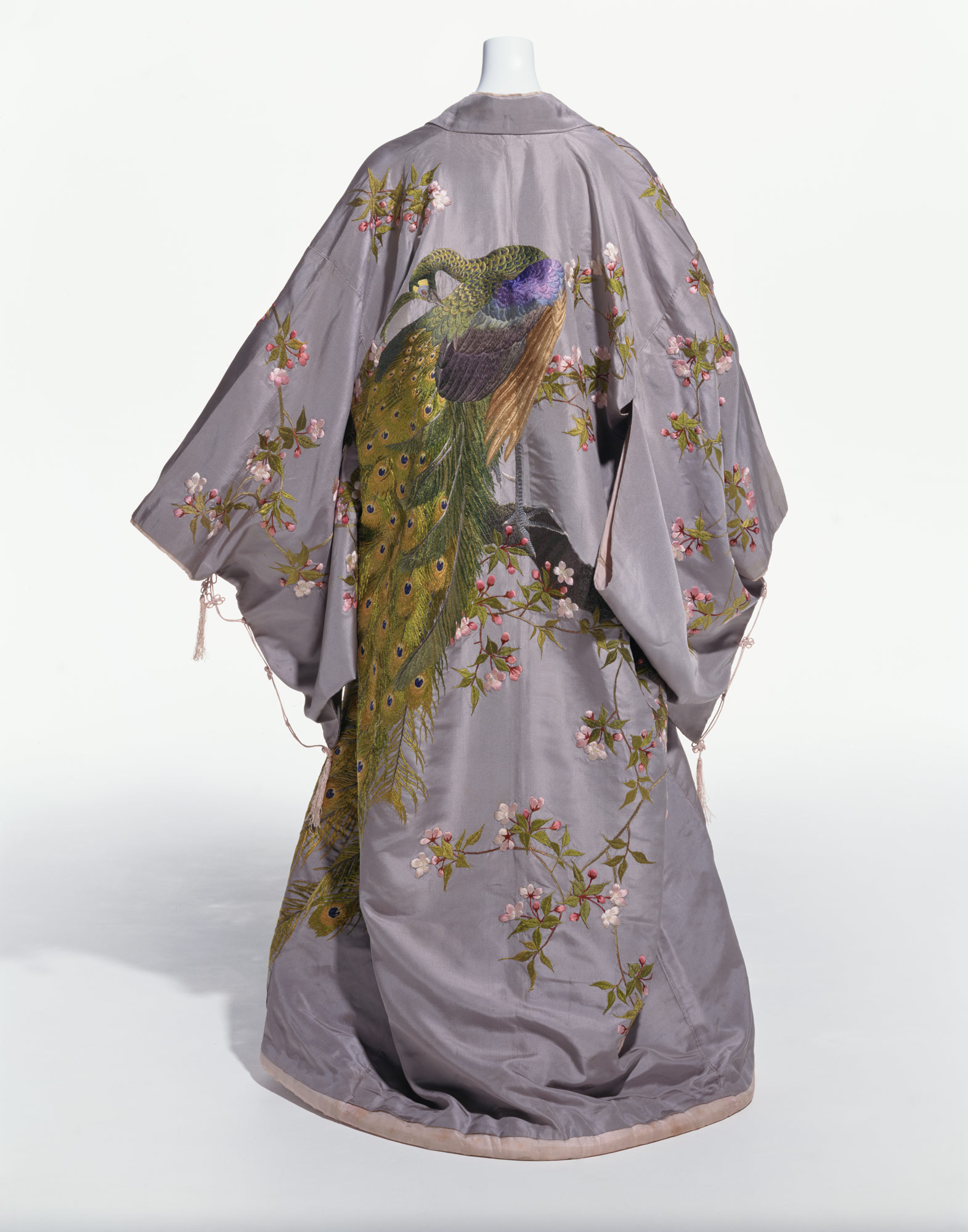 © The Kyoto Costume Institute, photo by Kazumi Kurigami
You can enlarge by putting the mouse cursor on the image.
At-Home Gown
c. 1906
Designer

unknown

Brand

Iida Takashimaya

Label

S.IIDA, "TAKASHIMAYA" SILKS & EMBROIDERIES. KYOTO.

Material

Gray plain-weave silk; embroidery of peacock on cherry blossom tree from front to back bodice; "kumihimo" (Japanese cord) and tassels at cuffs; "fuki" (padded hem) in pink; "habutae" lining; made in Japan for export.

Inventory Number(s)

AC9265 95-41-1
This is a kimono-style indoor garment exported from Japan to Western countries. It was appropriated to Western markets with its extravagant design of embroidered cherry trees and a peacock, gussets patched on the sides, body flaring gently down to the hem, and a curved collar. Iida Takashimaya, the predecessor of the present Takashimaya department store, was a major kimono retailer in the Meiji era, and aggressively engaged in foreign trade business as early as the end of the 19th century. In the late 19th century a Japan boom spread in the Western countries, partly through world expositions held in various places. Westerners favored Japanese kimonos, sometimes remaking it as into fashionable dresses. In the 1880s, women in the West started to wear kimonos as indoor wear, which was less subject to social constraints, and kimonos became widely popular in Western countries up until the early 20th century. The Japanese word "kimono" is said to have first been used in France in 1876. Now in America and Europe it is generally used to indicate a loose robe worn indoors.