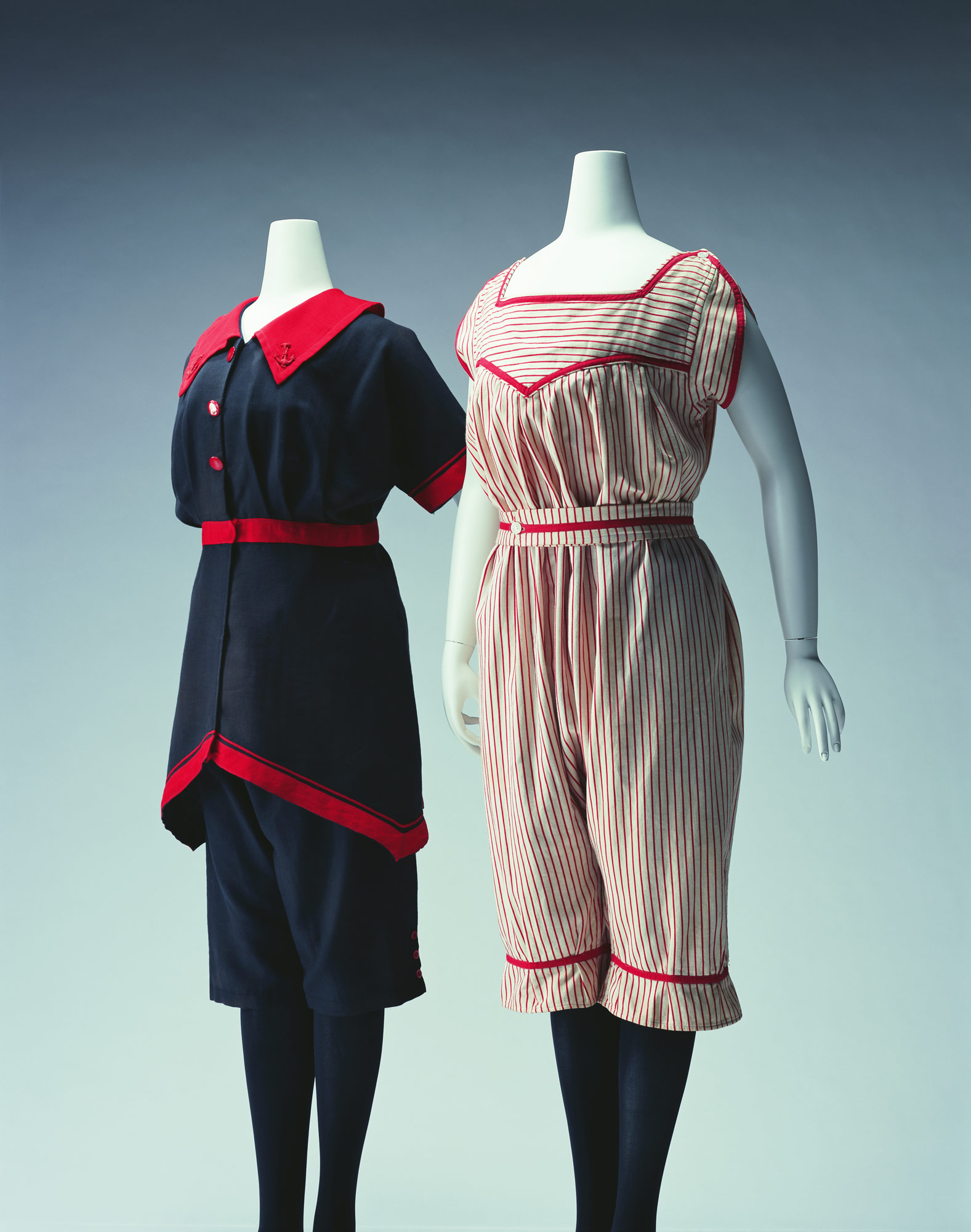 © The Kyoto Costume Institute, photo by Takashi Hatakeyama
You can enlarge by putting the mouse cursor on the image.
Swimsuit [Left]
Swimsuit [Right]
1900s [Left]
1900s [Right]
Designer

unknown [Left]
unknown [Right]

Brand

Rudolf Lenn [Left]
unknown [Right]

Label

Aussutevern Rudolf Lenn Bern [Left]

Material

Navy wool challis; pullover and knee-length trousers; red large flat collar with anchor-shaped ornaments at the tips; red braid at cuffs, waist and hem of pullover. [Left]
White cotton flannel with red stripes; knee-length jumpsuit; opening with buttons at both shoulders; red cotton tape ornament; matching waist belt. [Right]

Inventory Number(s)

AC6416 89-20-4AB [Left]
AC5176 85-37-4 [Right]
This swimsuit is from the beginning of the 20th century, which covered almost the skin. Halfway through the 19th century, bathing wear introduced to women, as long as it was done in name of health. However, the bathing only extended to a quite minimal dip in the water, and the functionality demanded in swimsuits today for swimming purposes was not present. Only the leisure classes with wealth and time were able to enjoy such lifestyle. However, with the development of the railways during the mid-century, bathing in the sea also became popular among the public. From the end of the 19th century onward, women gradually began participating in sports, and demand regarding functionality in swimsuits grew largely.