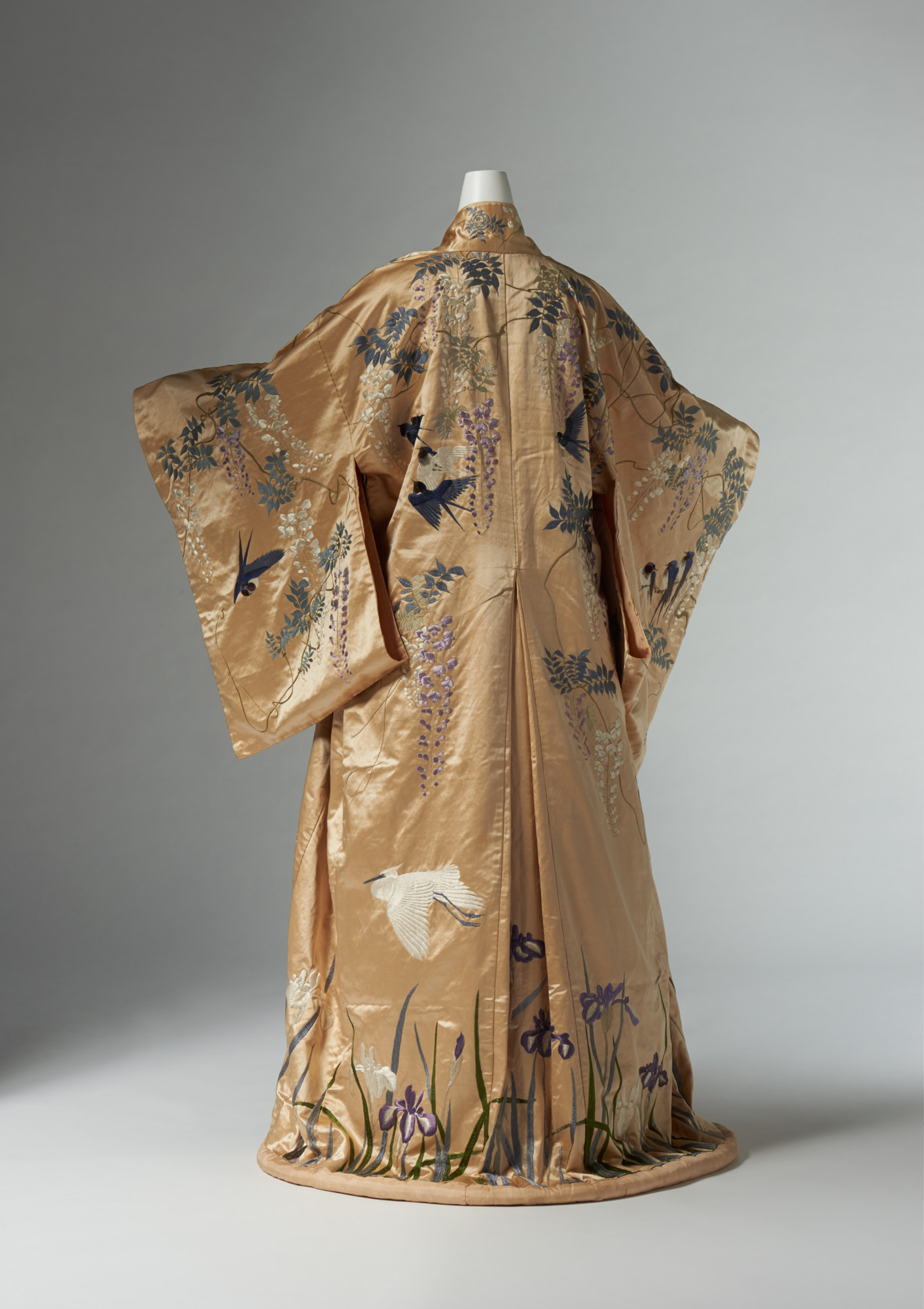 © The Kyoto Costume Institute, photo by Masayuki Hayashi
You can enlarge by putting the mouse cursor on the image.
"Kimono" for Export
c. 1906 - Japan
Designer

unknown

Brand

unknown

Material

Cream color silk satin; embroidery of wisteria, iris, swallow and heron in silk threads; slit at sides; pleat at back; padded cuffs and hem.

Inventory Number(s)

AC13201 2015-5-1
This is a kimono-style at home gown manufactured in Japan for Western markets, thought to be made by Iida Takashimaya. It has gussetted sides and a pleat from the waist at the back to produce a silhouette in line with the Western fashions of the time. Japanese kimono reached the West in the second half of the 19th century, where it appeared in paintings, was worn by women as dressing gowns, or was remade into fashionable dresses. Early in the 20th century, "kimono" became the name for a new type of fashionable at home gown, and a major kimono boom occurred, with such garments produced in large volumes in Japan and elsewhere. Japanese manufacturers followed Western trends, and from 1900 into the 1910s, created garments with adaptations like the pleating at the back of this example, or replacing the obi with a sash belt fastening of the same material as the gown, with fringes at both ends. Such products became popular in the West. In Britain, an article in "The Queen: The Lady's Newspaper" of October 4, 1902 declared, "the Kimona serves as a useful suggestion for opera cloaks and dressing jackets and teagowns, and we owe the dwellers in the land of the chrysanthemum a dabt of gratitude for acquainting us with the charms of so useful and graceful a garment." In France, the House of Babani promoted "robes japonaises" extensively in every issue of popular women's magazine "Figaro Mode" from December 1904 to February 1906. In the February 1905 issue, it enthused, "The kimono has become the topic dominating the conversation of elegant women. ... It is a full silk garment that shows a woman's silhouette attractively without any constraint on physical movement, but, more than anything, the interest is probably due to it being elegant, easy to wear, and comfortable." Even today, "kimono" is a general term in the West for at home gown.