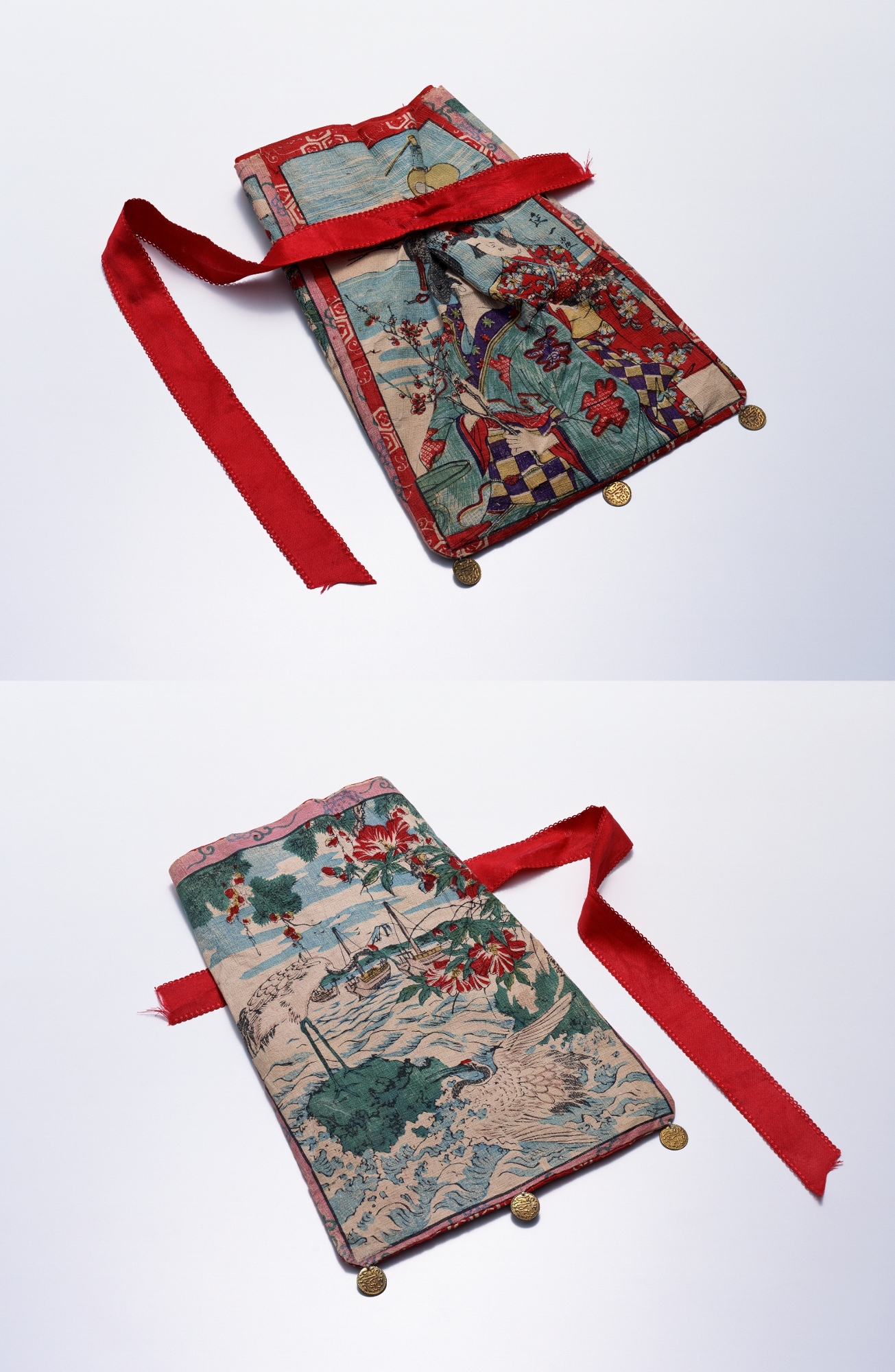 © The Kyoto Costume Institute, photo by Takashi Hatakeyama
You can enlarge by putting the mouse cursor on the image.
Bag
c. 1900
Material

Paper ukiyoe; lining of red cotton satin; metal medal; ribbon of red silk satin.

Dimension

26.3cm (height) / 18.5cm (width)

Credit Line

Gift of Ms. Mariko Fujita

Inventory Number(s)

AC10345 2000-28
A fascinating item that uses a Japanese chirimen-e (crêped print) for a bag. Chirimen-e is a color woodblock print that has been further processed to give it the look of crepe silk, chirimen. After printing, the print is wrapped around a bar and crumpled. The process shrinks the print and gives it crinkles and creases like those of crepe silk. Crafts like this were produced around Japan from the 1830s, Towards the end of the Edo period, they were highly valued as souvenirs by foreigners visiting Japan, and in the Meiji period they were mass-produced by machine for export. Chirimen books, which were chirimen-e of old Japanese tales translated into Western languages and bound into books, were also exported.
This bag has two such prints sewn together. As can be seen from the "Nobukazu" signature to the right of the portrait, the prints are the work of Yosai Nobukazu (1872-1944), a Meiji period artist who studied under the popular and prolific ukiyoe woodblock artist Yoshu Chikanobu. Yosai worked until about end of the Meiji period, producing prints on themes that included the Sino-Japanese War and Russo-Japanese war in addition to his bijin-ga and fuzoku-ga depicting women and aspects of contemporary life.
A bag resembling this, described as a Japanese chirimen-e bag (réticule japonais crépon) was included in a feature on party accessories in the January 15, 1903 edition of Femina.