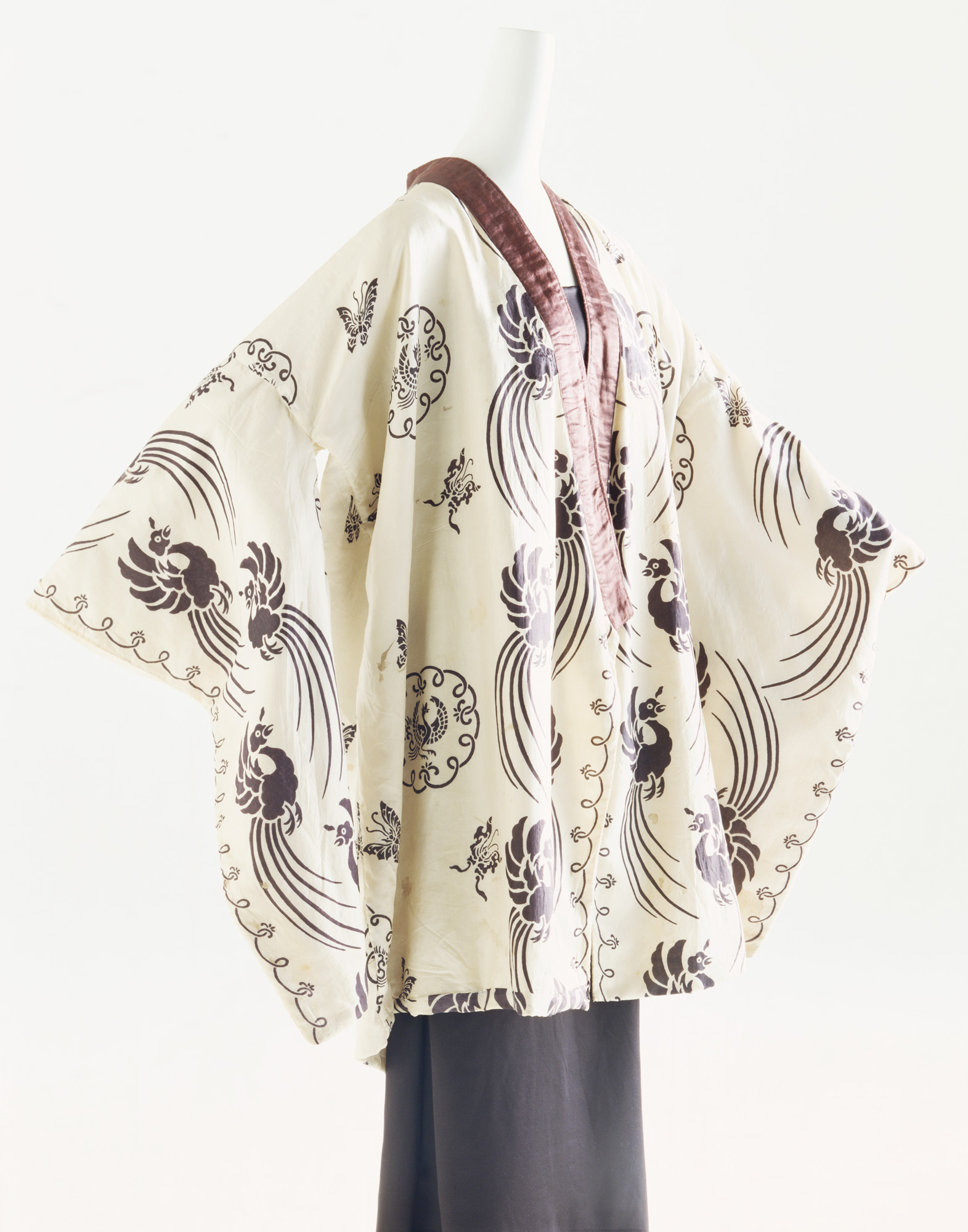 © The Kyoto Costume Institute, photo by Masayuki Hayashi
You can enlarge by putting the mouse cursor on the image.
Dressing Jacket "Kimono Sada Yacco"
1900s - France
Designer

unknown

Brand

Au Mikado

Label

KIMONO SADA YACCO Marque Déposée Au Mikado PARIS 日本物品

Material

White silk ("habutae") printed with phoenix and butterfly motifs; maroon silk satin collar.

Inventory Number(s)

AC9179 94-42
In 1900, the Japanese actress Sada Yacco enthralled Paris with her beauty and traditional kimono dress sense. The Au Mikado boutique in Paris took built on her popularity by launching the KIMONO SADA YACCO brand as at-home gown. With easily attainable prices and an advertising strategy that attracted the interest of a broad spectrum of ordinary women, it turned a growing kimono trend as at-home gown into a boom. From 1903, ads for KIMONO SADA YACCO appeared in every issue of the French women's magazine "Femina." Before long, the boutique was also placing ads in Italian and Spanish magazines, serving clients by mail order. The ads billed the KIMONO SADA YACCO garments as real kimono imported from Japan, but although they use habutae silk or flannel fabrics made in Japan, the structures of their necklines and shoulderlines mark them as being put together in the West. A variety of products with different materials and specifications were sold, and this appears to be a winter wear item sold for 30 francs. Perhaps because they were practical dressing gowns, very few still exist, and this example is an ankle-length gown that has since been shortened.