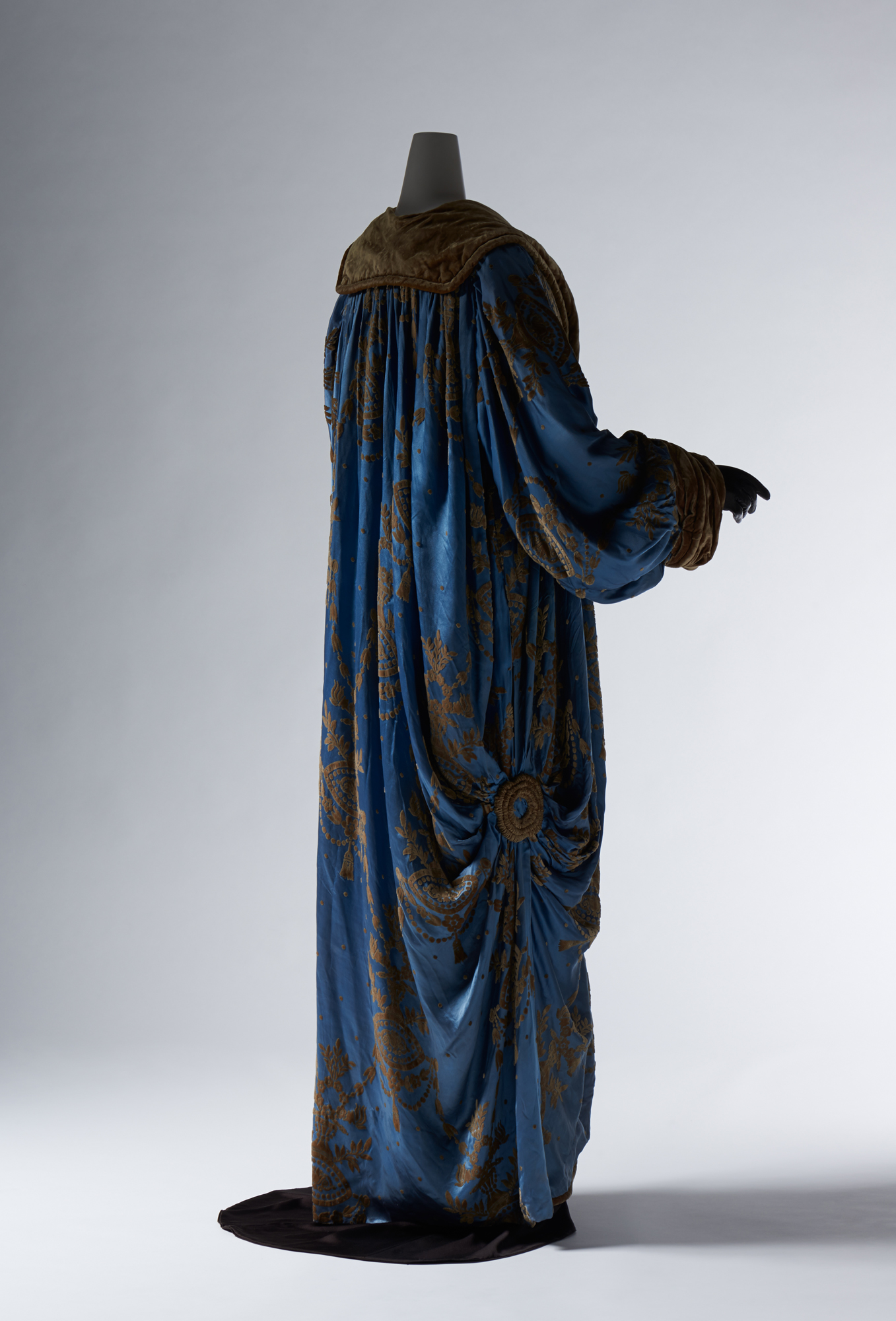 © The Kyoto Costume Institute, photo by Masayuki Hayashi
You can enlarge by putting the mouse cursor on the image.
Evening Coat
1909 winter
Designer

Jeanne Paquin

Brand

Paquin

Label

Paquin HIVER 1909-PARIS 3.Rue de la Paix LONDON 39 Dover Street

Material

Blue silk satin cut velvet; flower pattern; brown silk velvet at collar and cuffs.

Inventory Number(s)

AC4140 81-27-2
At the beginning of the 20th century, sumptuous full length coats were worn as evening dress. This was a period of transition from the narrow-waisted S-shaped silhouette produced by corsetry to a tubular silhouette, and items like this evening coat were in fashion, draped and gathered to create a silhouette that flowed vertically from the shoulders. Many designs had an oriental (Japanese or Chinese) image, and in 1907, Paquin created a manteaux japonais that incorporated kimono stitching techniques. This evening coat has a traditional Western pattern, but the influence of kimono design can be seen in its form, particularly in the fullness of the sleeves and hem.
Designer Jeanne Paquin (1869-1936) trained at Rouff before founding her own house in Paris under the name of Paquin in 1891. Her creations were gorgeous and romantic, blending fine cutting with draping techniques that were greatly appreciated by society women and actresses at the beginning of the 20th century, making her design house one of the best known at that time. Paquin's talent for production extended to areas other than design, and she was appointed to direct the fashion section for the 1900 Paris Exposition. She was also one of the first designers to open branches in London and other key locations, with her stores gaining a reputation for lingerie and for their large fur sections. Paquin retired in 1920, but her house continued in business for many years before eventually closing in 1956.