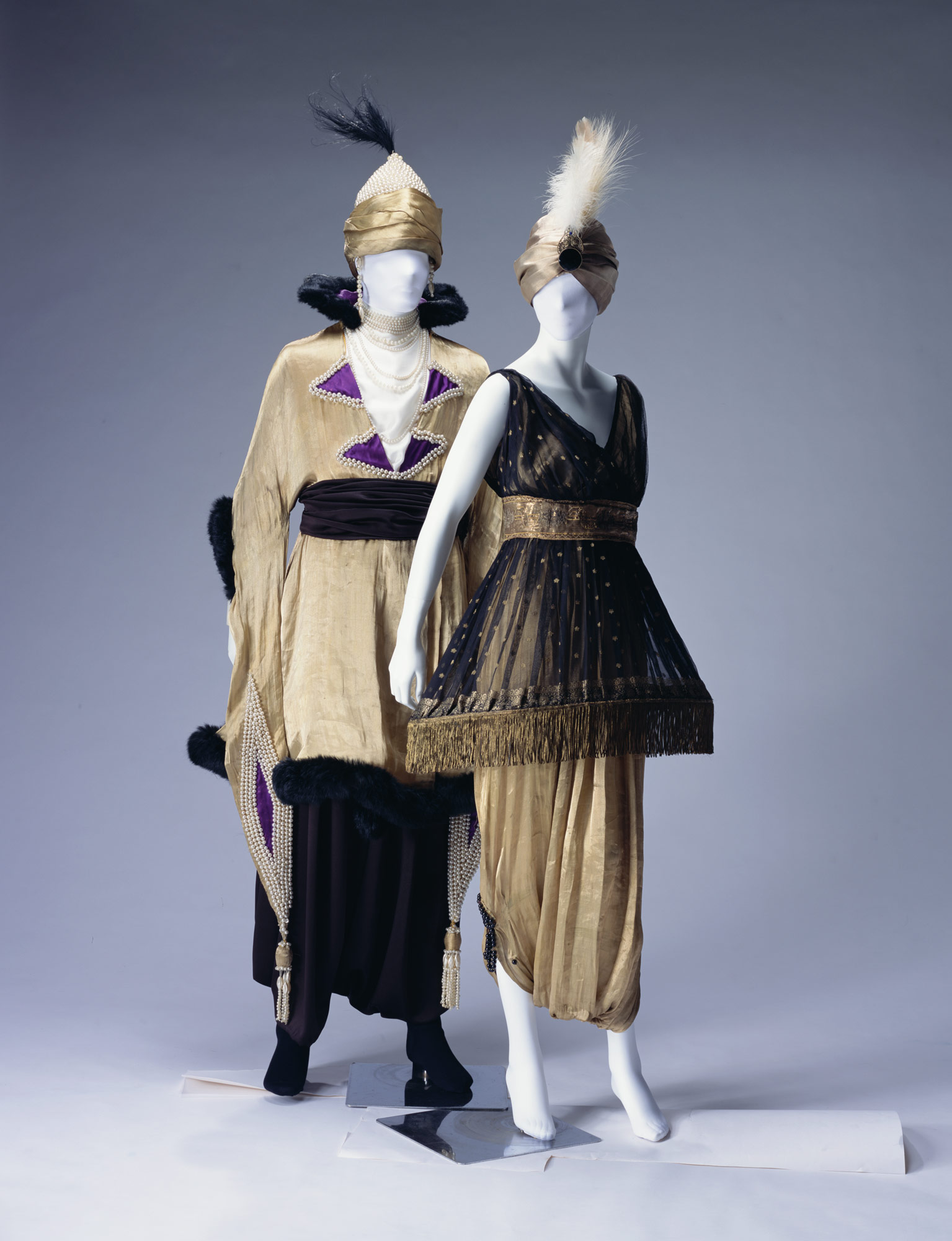 © The Kyoto Costume Institute, photo by Takashi Hatakeyama
You can enlarge by putting the mouse cursor on the image.
Party Costume [Left]
Party Costume [Right]
1914 [Left]
1913 [Right]
Designer

Paul Poiret [Left]
Paul Poiret [Right]

Brand

Paul Poiret [Left]
Paul Poiret [Right]

Label

PAUL POIRET a PARIS [Left]
PAUL POIRET a PARIS [Right]

Material

Gold "lamé" and purple silk satin jacket with fake pearls and black fur; gold "lamé" hat with fake pearls and aigrette plume. [Left]
Gold "lamé" silk harem pants; black silk gauze hoped overdress with gold floral embroidery; gold-embroidered belt. [Right]

Inventory Number(s)

AC9330 96-15 [Left]
AC9175 94-40-2AB [Right]
These are precious exampled dressed for "La mille et deux nuits," a masquerade party held by Paul Poiret. Although they were made for one night's use only, they are gorgeous. The men's costume was worn by Arthur Acton(1873–1953), an art collector and the father of the English writer Sir Harold Acton.
Poiret was a designer who gave direction to 20th century fashion, and was nicknamed the "Sultan of Mode." The luxurious party "La 1002e nuit" was held in 1911, when Orientalism was popular as a result of the Ballets Russes and other influences. Poiret got the idea for the party from a collection of Arabian folktales, "The Book of One Thousand and One Nights." Poiret disguised himself as a sultan, and all three hundred guests wore ancient Persian style dress to set the mood for the party. The combination of a hoop skirt and a turban worn by Poiret's wife Denise attracted tremendous interest. After this party, Poiret often held Oriental parties and produced Arabian-style fancy dress designs.