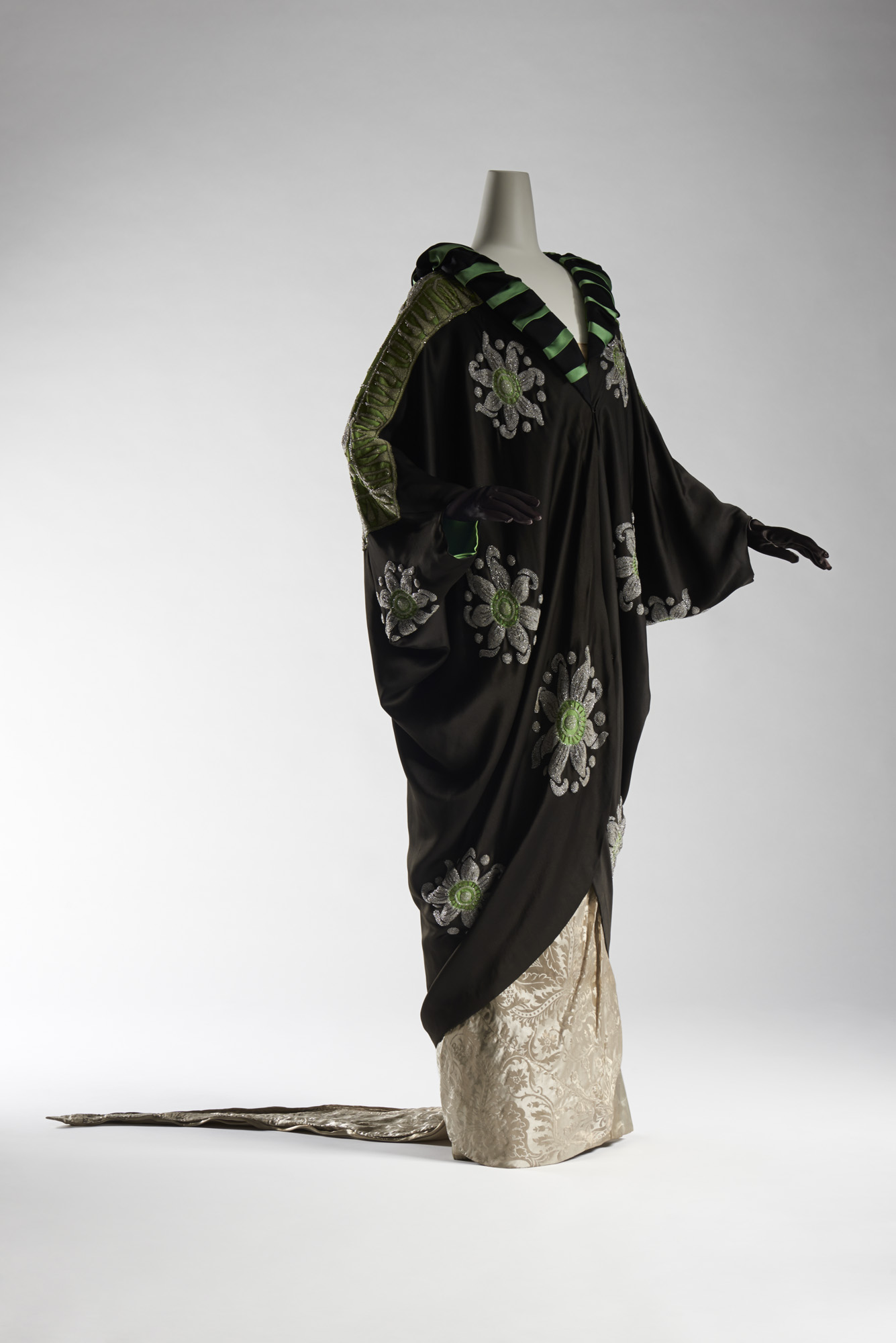 © The Kyoto Costume Institute, photo by Masayuki Hayashi
You can enlarge by putting the mouse cursor on the image.
Evening Coat
c. 1913
Designer

Amy Linker

Brand

Amy Linker

Label

AMY LINKER LINKER & Co. Sps. 7 RUE AUBER PARIS

Material

Black silk satin and light green silk crêpe; bead embroidery of floral or oriental motif; black and green silk satin collar.

Inventory Number(s)

AC3775 81-8-1
A coat with a silhouette like an outer robe for kimono was described as a "manteau japonais" by fashion magazines of the time, and the silhouette of this particular coat is reminiscent of the "uchikake" robe worn by kabuki actors or oiran courtesans in ukiyoe prints. The boldly striped collar is probably inspired by the "date-eri" collar style used in kabuki costume. The flower-like motifs executed in embroidered beads look like the traditional "hanakatsumi" motif that became popular in late Edo-period Japan when favored by kabuki actors. In contrast, the motifs on the bordered panel on the back resemble motifs used around the Mediterranean in ancient times, and could reasonably be called palmettes. This coat is an excellent example of oriental-style wear packed with eclectic elements that was fashionable early in the 1910s. Maison Amy Linker opened in Paris in 1900, specializing particularly in coats and suits. Its latest products were frequently seen in French fashion magazines early in the 20th century. The house is perhaps best known for introducing sporty fashions in the 1920s.