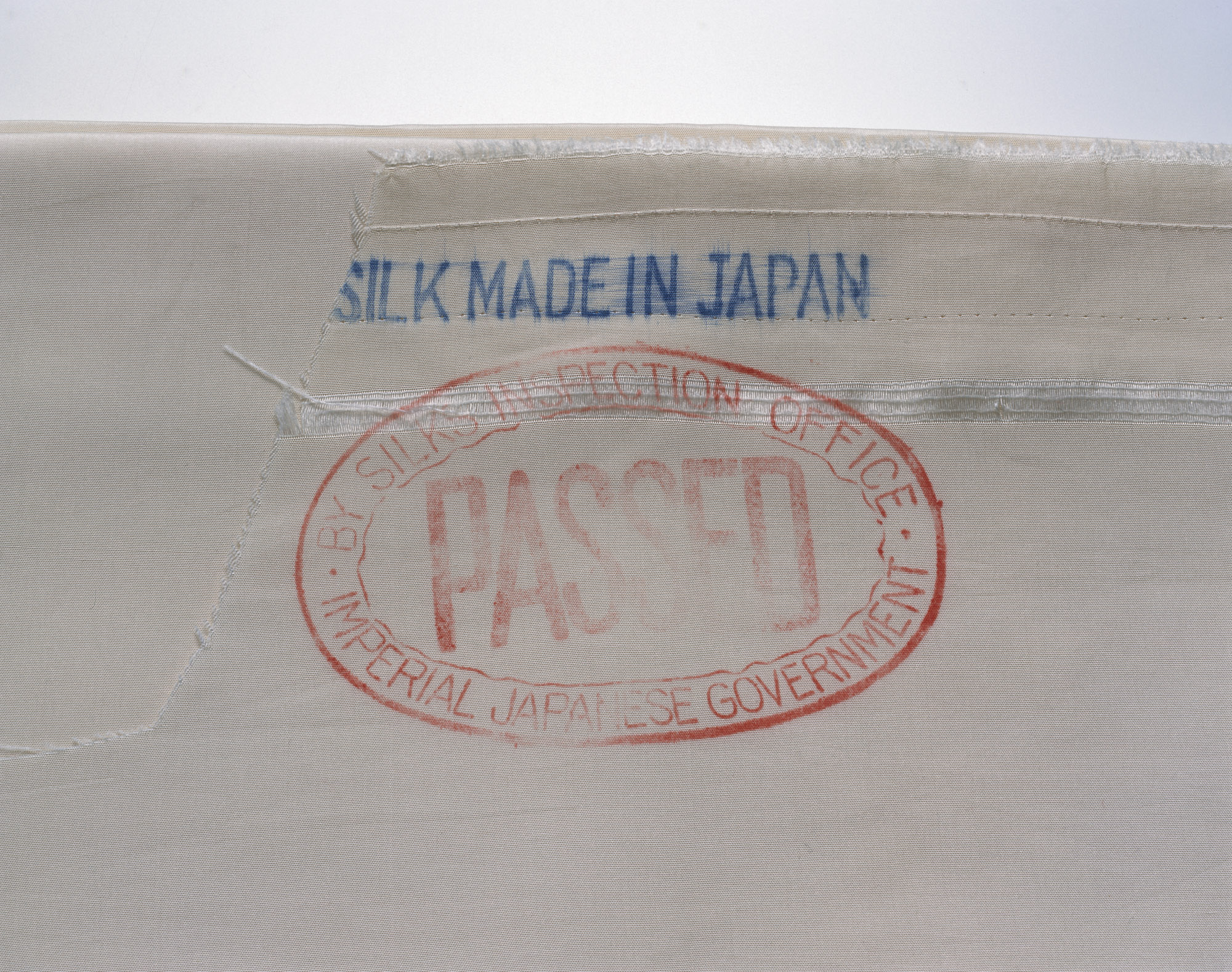 © The Kyoto Costume Institute, photo by Takashi Hatakeyama
You can enlarge by putting the mouse cursor on the image.
Textile
c. 1910 - Japan
Designer

unknown

Brand

unknown

Label

No.16 S. EBARA KIRYU JOSHU JAPAN

Material

Silk ("habutae") for export.

Dimension

93cm (width)

Inventory Number(s)

AC10301 2000-11
This example of habutae silk manufactured for export is marked "SILK MADE IN JAPAN" and "PASSED BY SILK INSPECTION OFFICE - IMPERIAL JAPANESE GOVERNMENT" in the center at the end of the bolt of fabric. Japan's Ministry of Agriculture and Commerce published regulations for export silk in 1905, charging Silk Inspection Offices in each prefecture with quality control. This inspection mark is presumed to be from one of those offices. To the right of this mark is a "No.16 S. EBARA..." stamp, labeling the silk as a product finished by Shohei Ebara of Kiryu in Joshu (present-day Gunma prefecture), which was one of the habutae production areas. A document published in 1904 to report on a survey of the history of weavers in Gunma records Ebara's one of the main finishers of textiles for export in Kiryu. In 1913, he was dispatched as an instructor of silk refining to Fukui Prefecture, which later became a major habutae producing area. This textile is 93cm wide (2 shaku, 4 sun in traditional measurements), which is one of the typical widths for habutae listed in the Dictionary of Trade Products in Japan published in 1910. As cloth was generally traded in 50 yard (45.7m) lengths at that time, this item is assumed to have had the bulk of the length cut off after export. Habutae was the most common form of woven silk exported by Japan in the Meiji period, and by the time of the First World War, accounted for 70%–80% of silk exports by value. It was produced as plain, patterned, or twilled weave, almost always in plain white.