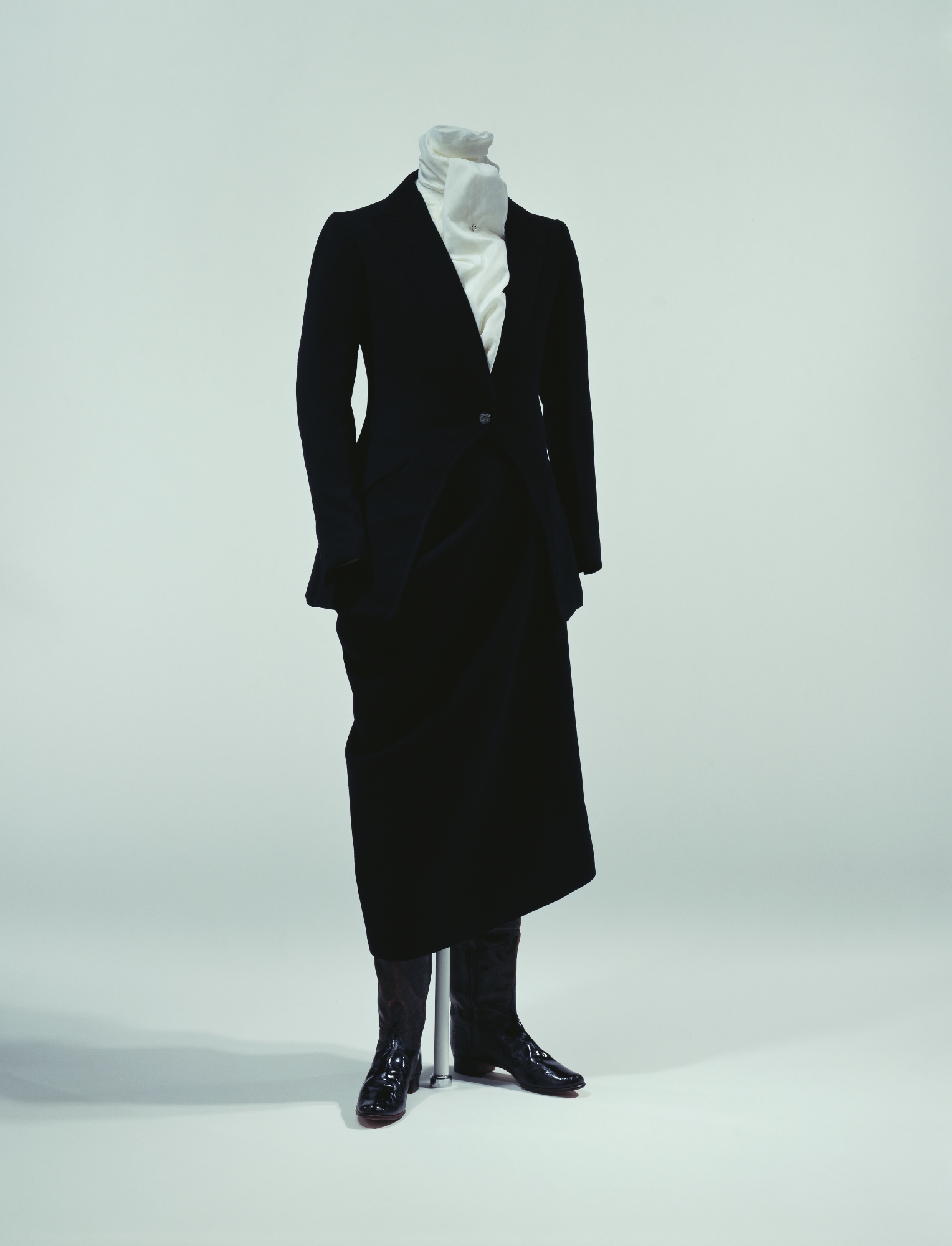 © The Kyoto Costume Institute, photo by Takashi Hatakeyama
You can enlarge by putting the mouse cursor on the image.
Riding Habit
1920s
Designer

Henry Creed

Brand

Creed

Label

H.CREED AND Co.

Material

Black wool twill; tailored cutaway jacket; skirt configured for right-knee-bend style of side-saddle riding; worn over jodhpurs.

Inventory Number(s)

AC305 1977-12-20-AC
Riding habit by Creed, which had been famous for the quality of its tailored suits. This habit which mixes the tailored jacket and jodhpurs that provided functional riding wear for men with feminine elements such as the long skirt, was the formal standard for women riders until the 1930s. The quality tailoring and careful hand stitching combine with dignified, thick fabrics to create a refined silhouette characterized by functional beauty.
Horse riding was traditionally a privilege of the upper classes, and enjoyed by women as well as men. In France, the riding habit worn by women called "amazone," after the mounted female warriors of Greek legend. The riding habits incorporated elements from men's riding wear, but women were not permitted to straddle a horse, and had to ride sidesaddle wearing a skirt. In the second half of the 19th century, riding began to gain popularity among the general public, but sidesaddles and skirts remained the norm for women.
For the sake of safety and functionality, women actually wore similar breeches as men, but they were inevitably hidden by a skirt. Other than exceptions, such as Gabrielle Chanel, who was already wearing jodhpurs and riding together with men around the time of World War I, it was not until the end of the 1930s that sidesaddle largely disappeared.