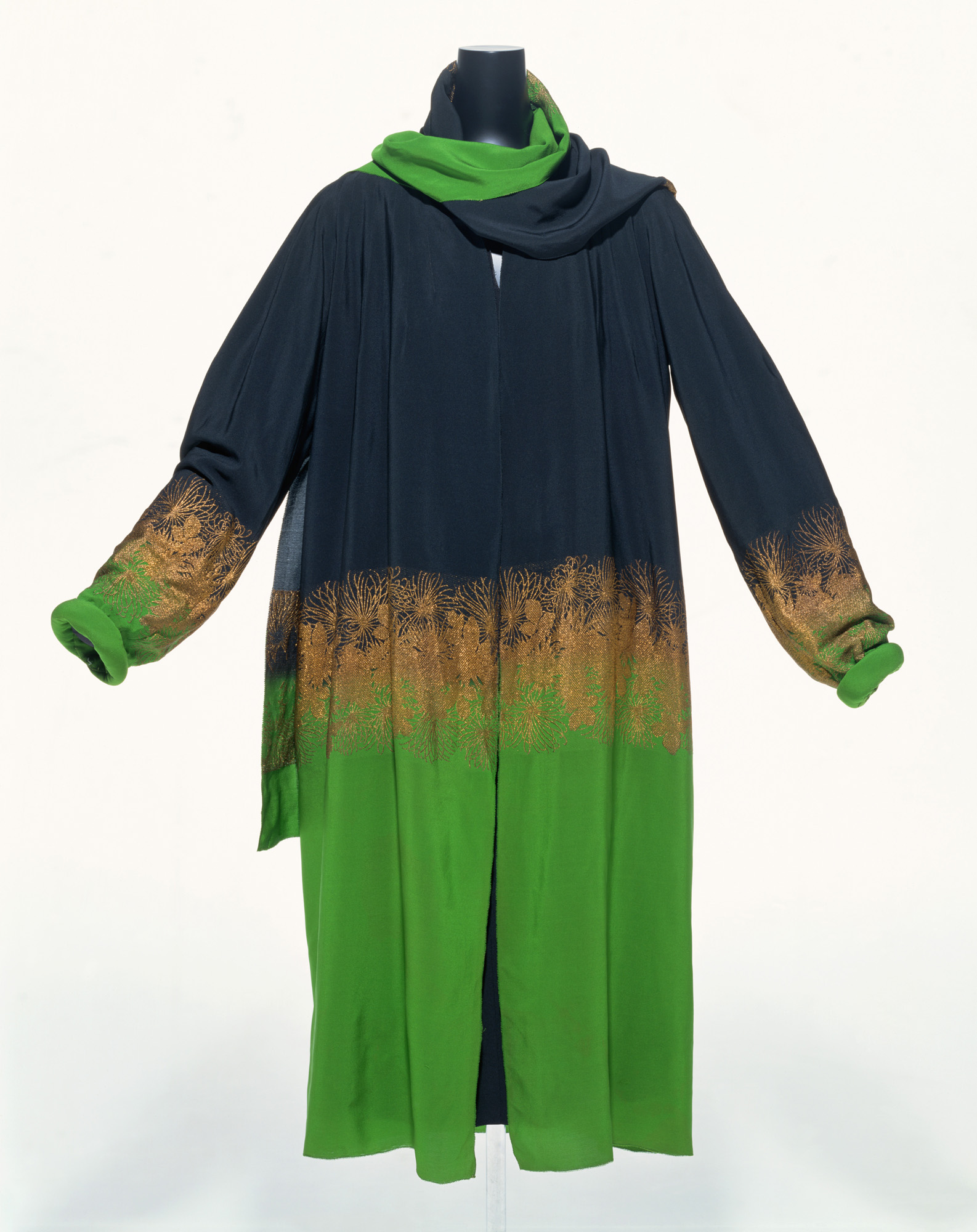 © The Kyoto Costume Institute, photo by Kazumi Kurigami
You can enlarge by putting the mouse cursor on the image.
Evening Coat
c. 1927
Designer

Gabrielle Chanel

Brand

Chanel

Label

CHANEL

Material

Black and green ombréed silk crêpe with gold brocade chrysanthemum motif; matching tie-collar and two panels at back; padded cuffs.

Inventory Number(s)

AC9182 94-45
Silk crepe, similar to nashiji weave, is patterned with a black to green gradation achieved by ombré dyeing techniques, woven with delicate gold crysanthemum motifs. The texture of this textile resembles pear-skin, like the nashiji technique in urushi lacquer. It matches well with the Art Deco tastes of the period, and gives a fresh, modernist air. The Metropolitan Museum of Art, New York has a coat of the same design in different colors, and associates the wadded cuffs with fuki padded hem of a kimono.
Gabrielle 'Coco' Chanel began her career as a milliner in 1909, and opened her own haute couture maison in Paris in 1910. Working with jersey, a material that had typically been used for underwear, she created suits for women incorporating elements from men's clothing, bringing her recognition and popularity. After World War I, she re-located to 31 Rue Cambon in Paris. As a working woman, she created clothing that fitted the style of independent women in a dramatically different post-war society, establishing a new concept of elegance with functional chic. She was particularly well known for her Petite Robe Noire, which did away with excessive decoration. Her maison closed down during World War II, but re-opened in the mid-1950s, and popularized the Chanel suit that became an essential part of the wardrobe of modern women. Today, Chanel continues to produce an haute couture collection in addition to prêt-à-porter.