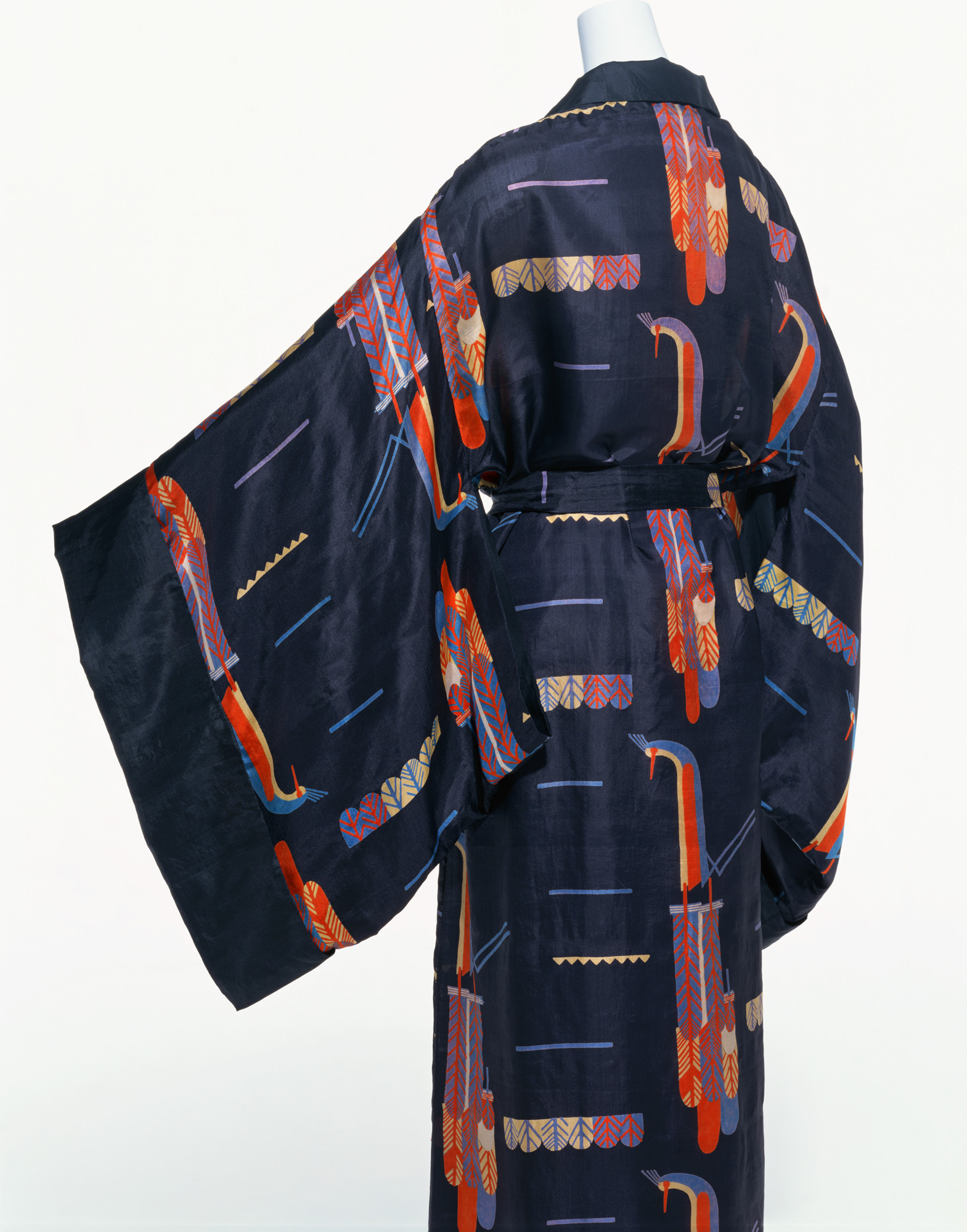 © The Kyoto Costume Institute, photo by Kazumi Kurigami
You can enlarge by putting the mouse cursor on the image.
At-Home Gown
ca. 1928
Brand

Wiener Werkstätte (textile design: Mathilde Flögle)

Label

WIENER WERKSTATTE

Material

Black silk (habutae) printed with peacock motif; titled "Hobby"; kimono sleeves and kimono-like collar; wrapped buttons; belt in the same fabric.

Inventory Number(s)

AC9011 93-47
The textile design for this gown is the work of Mathilde Flögl, who was a member of the Wiener Werkstätte from 1916 to 1931. The stylized peacock motifs with tail feathers resembling a young pine leaf pattern make a splendid contrast to the black background. This was produced by Wiener Werkstätte's fashion department (1911-1931).
Wiener Werkstätte was founded in 1903 by Josef Franz Maria Hoffmann and Koloman Moser, who had both been founder members of Wiener Secession, a forward-looking movement of artists and designers that was intially led by Gustav Klimt. Asserting the equivalence of art and craft, the Werkstätte was partly inspired by the British Arts and Crafts movement that advocated integration of life and art. Hoffmann and Moser designed a wide range of items associated with everyday life, including furniture, crafts, wallpaper, tableware, and fashion. They saw Japan's artistic craftworks as practical examples of the integation of art and daily life, and took them as a key source of inspiration for their own designs. Textiles produced by the Werkstätte show a very clear influence of Japanese fabrics and stencils.