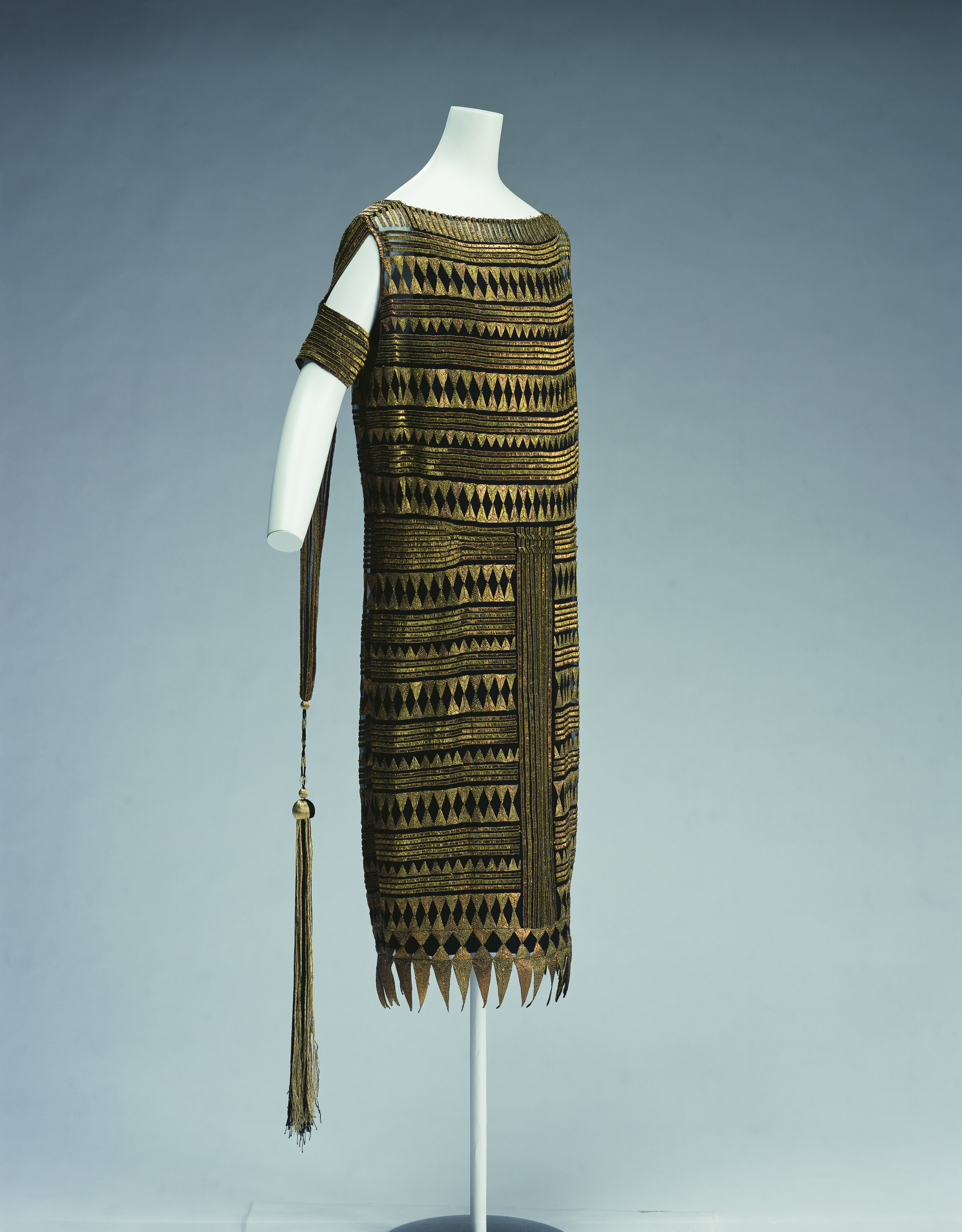 © The Kyoto Costume Institute, photo by Takashi Hatakeyama
You can enlarge by putting the mouse cursor on the image.
Evening dress
1927
Designer

Madeleine Vionnet

Label

none

Material

Black silk gauze with gold thread and bronze cord embroidery; Egyptian geometric pattern; strap with tassels.

Inventory Number(s)

AC6815 90-24-3
An oriental style silk thread and gold thread tassel ornament is attached to the end of a strap that falls from the right shoulder. The straight-line bodice has black silk gauze embroidered all over with Egyptian-style geometric patterns in delicate colors using light gold thread and bronze-colored cords. Vionnet was devoted to geometry, and was interested in regularly repeated geometrical motifs like those of the textile for this dress. The excavation of Tutankhamun's tomb in 1922 triggered the popularity of ancient Egypt themes, and many fashion items of this period clearly display that impact. The rise of orientalism of the 1910s continued, and ancient Egyptian themes, the Aztec art of Mexico, and other cultural influences captured the hearts of people in Western Europe. This eventually led to art deco, with its characteristic geometric motifs.
The Metropolitan Museum of Art in New York has another example of the textile used for this dress in its collection (2009.300.1889a, b), and points out that the embroidery may be the work of Sarah Lipska (1882-1973). Lipska was a native of Mława in the North East of Poland, which was a Russian possession at the time. In 1912 she moved to Paris and worked as an artist in areas including sculpture, oil painting, interior design, and theatrical costume design.