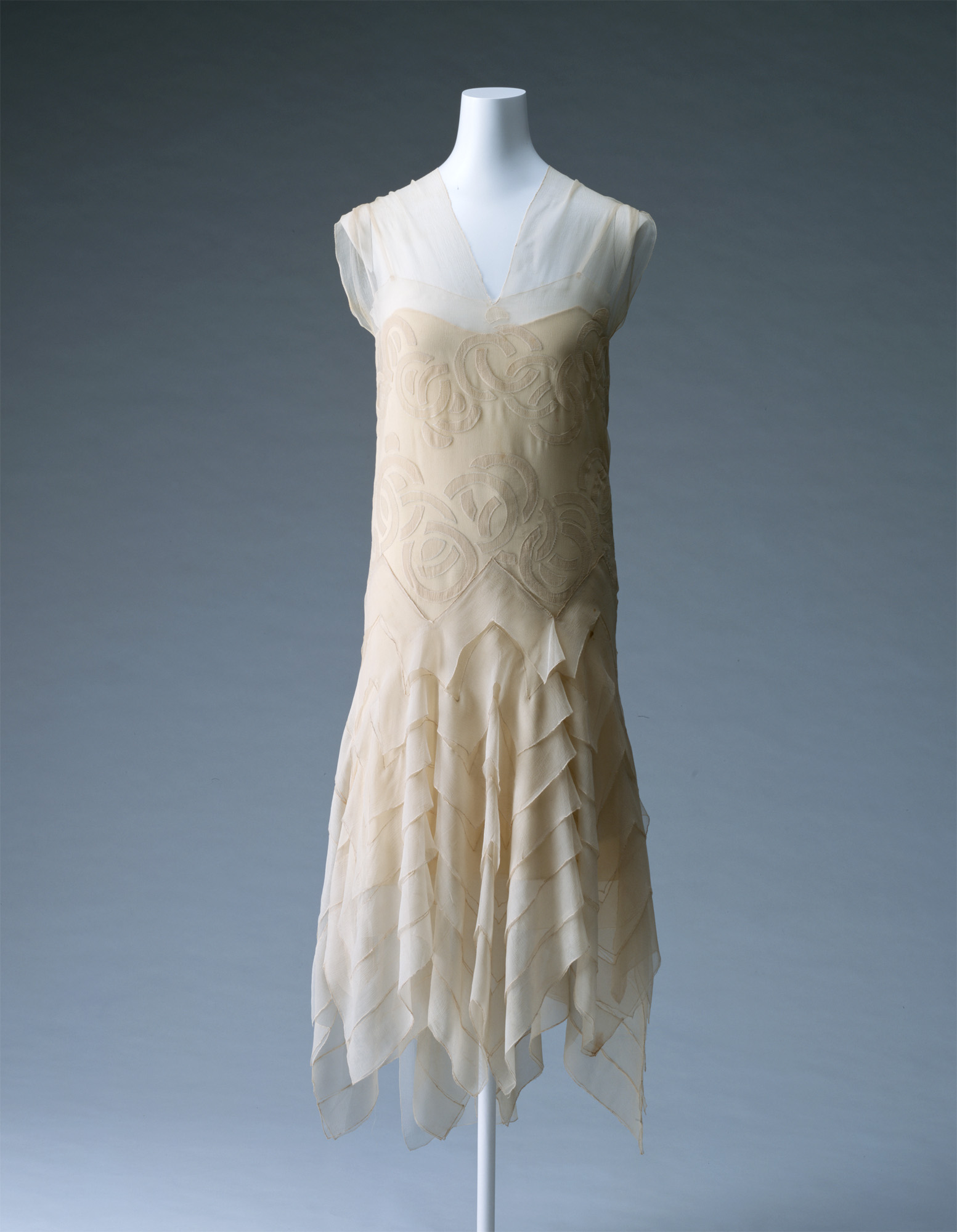 © The Kyoto Costume Institute, photo by Takashi Hatakeyama
You can enlarge by putting the mouse cursor on the image.
Evening dress
1929
Designer

Madeleine Vionnet

Label

MADELEINE VIONNET DÉPOSÉ (fingerprint)

Material

Ivory silk chiffon; appliqué of circle motif; bias-cut skirt with seven layers of the same fabric.

Inventory Number(s)

AC6420 89-21-3AB
The appliqués of abstract round floral motifs on the body, and geometric elements such as what appear to be zigzag parts on the skirt that decorate this dress are characteristic of the Art Deco period. Vionnet's interest in the bias cut extended to the incorporation of geometric parts that bring bias cut characteristics to ornamentation. The repetition of various parts such as circles, squares, and zigzags, and other figures bring harmony to the design, and as the wearer moves, create beautiful swaying movements at the edges of the fabric where it has been cut on the bias. This dress has seven zigzag pieces layered onto the skirt, sewn so that the bias effect works on each piece part.
In traditional dressmaking using patterns, the patterns are made of flat sheets of paper, but instead of flat patterns, Vionnet created models by placing fabric directly onto half-size wooden mannequins. This was then used by the première (first seamstress) to cut out the full-size toile that would be the prototype for the design. This had to be adjusted and redone many times until the designer was finally satisfied. This process required superlative technique and a great deal of time from the experienced staff of her ateliers, but the eventual result was a dress like this, with each stitch carefully placed by hand just as regularly as if sewn by machine.